Ruins Near Bald Mountain City
Gold!! The glittering metal that dream and fortunes are made of. Wyoming three major gold strikes from 1850 until 1895. South Pass City, Centennial, and Bald Mountain in the 1890s. Bald Mountain is 60 miles from Sheridan, not far from Medicine Mountain and Bear Lodge.
On April 26, 1891, the Wyoming Commonwealth, the Special Organ of the State Board of Mines, from Cheyenne, had an interview with Thomas T. Howd of Sheridan, who had much experience in mining and prospecting, about the recent Bald Mountain discoveries, when asked, are the prospects as good as reported, Howd replied, "I consider them very good indeed we are not, however, trying to get up a boom. That will come soon enough. I understand that from 75 to 100 miners are already preparing to leave the Black Hills camps for Bald mountain."
Hard steep hills are encountered and must be climbed. The necessary equipment for such a trip are (food, a strong conveyance, winter clothes and bedding. The weather so far this season has been quite cold and unsettled."
Typical weather in the Bighorn Mountains in the spring in unpredictable. In the ten days the 1891 reporter said that it rained, snowed or hailed every 24 hours, and sometimes we had all sorts of weather, except warm weather, within an hour's time. He said he found more gold around Bald mountain than he had expected. The gold was of superior quality and at the time, was worth about $18.20 per ounce. Considerable gold was found in numerous gulches, in the head of the Little Horn River, and creeks that form the headwaters of the Tongue River.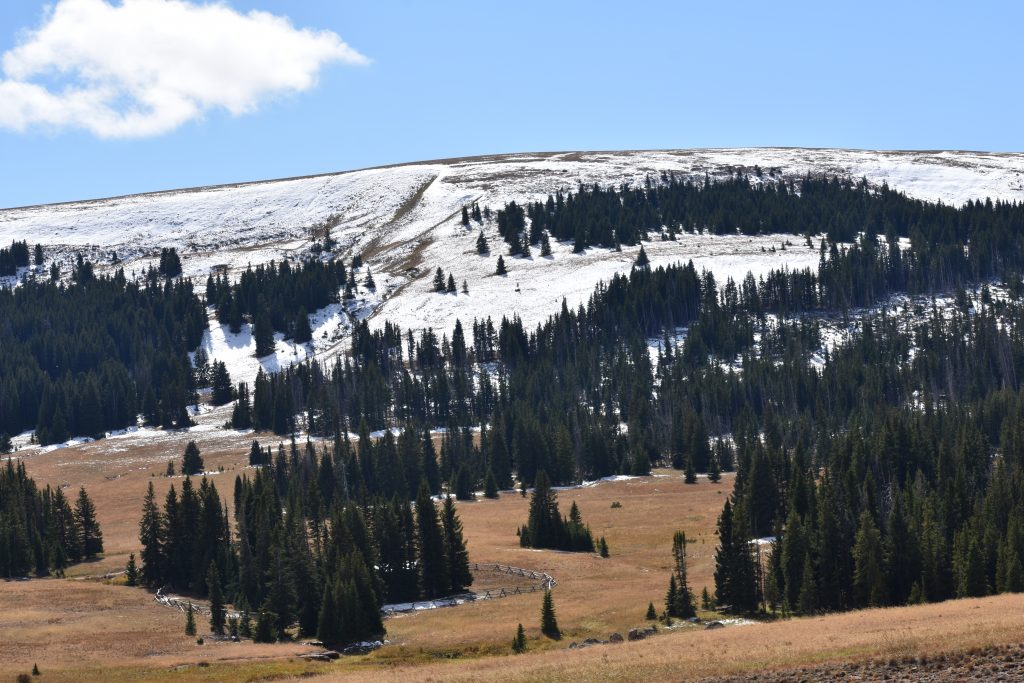 One day the writer reported that he 'sluiced and cleaned up $31.50 worth of gold." In 1890 the purchasing power of $31 is equivalent to $900 today, so that was a pretty fair amount of money for a day's work.
Sheridan Enterprise, May 28, 1892, stated that H.H. Hawkins, general manager of the Fortunatus Mining Co, was in Sheridan from NY, and he said his company will have machinery in Bald Mountain to save the gold as soon as the weather will permit transportation. In the same paper, one small article said, "the tide to Bald Mountain with pack horses has already set in."
In 1892, The Fortunatas Mining Company purchased a group of claims on the head of the Little Horn River and Porcupine Creek. The excitement led to the establishment of Bald Mountain City, the most extensive attempt at a settlement in the Big Horn Mountains. At one time there were as many as 50 buildings, including a saloon, meat market, an "eating house," a hotel, blacksmith shop, general store and drug store.
In 1895, with talk of a rich vein being discovered, mining machinery was hauled up the steep slopes by ox team from Dayton. Fortunatus poured in about a half million dollars into the effort, and in late 1896, Fred D. Smith, mining engineer at the University of Montana, exposed the claims as being exaggerated. Although some mining continued near Bald Mountain City as late as 1903 the gold was not commercially viable.
There was one article in The Sheridan Daily Journal, June 10, 1896 which stated that there was little or no sickness at Bald Mountain City. Due to this the article said Bald Mountain City may one day be known as health resort as well as rich mining camp.
At that time the paper reported that new business include a blacksmith shop, a market, with a stamp mills to be installed here later in the summer with more businesses expected. The Fortunatus outfit is expected in every day, when work will be resumed on large scale.
"The season here is unusually far advanced, the snow having disappeared except from the gulches and north side of the mountain. Flowers are abundant and grass beautiful. Stock on the range is looking well. The camp is unusually well supplied with surveyors and engineers. Several prospectors from Colorado and Idaho came to the gold fields at Bald Mountain."
The article says about the miners, "They are satisfied with the prospects and Bald mountain will this summer. No difficulty is experienced now in getting to camp, even with heavy loads. Our post offlce Is still in statue quo." It said that one group of investors had about perfected arrangements to put in saw mill. "A plant of that kind is needed very much and will do considerable toward building up the camp. Almost everyone here will have to have more or less lumber with very poor prospects of getting it until mill established here."
The Bald Mountain gold rush lasted for about 6 years, from the first gold strike in 1891, into 1903. However, the gold proved to be too small and fine for an extensive mining operation, and the miners moved on to richer veins.
Today, not much is left of Bald Mountain City, Foundations are gone, but clumps of trees where cabins were are still growing. There are some ruins near Half-Ounce Meadows, along Half Ounce Creek, where a great deal of panning went on. The logs appeared to be 'hand hewed" and of the era of the late 1800's and it could have started out as a miner's cabin during the time of the gold rush. Perhaps the owner panned for gold during the day a dreamed golden dreams during the night.
Another ruin is about five miles away, on a high, rocky, windy ridge that also was constructed of hand hewed, very large logs. Seeing that the elevation of the area is around 9000 feet, with deep snow in the winter, cold winds and chill temperatures, it is little wonder that the settlement didn't survive.
When driving along 14A, between Burgess Junction and Medicine Mountain, is a marker near the site of Bald Mountain City, giving a brief history of once thriving mining town.