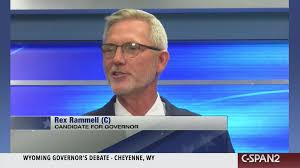 Rock Springs-based veterinarian Rex Rammell announced this week he will make a second run for the Wyoming governor's office in 2022, with an overriding platform to put all federal lands in Wyoming under state control.
Rammell said on his first day as governor, in a move justified by the U.S. Constitution, in particular the 10th amendment, he would sign an executive order that all federal buildings be taken over by the state. Rammell said the 10th amendment to the Constitution states that powers not explicitly given to the federal government belong to the states, and said he believes that federal control over public land is unconstitutional.
Over half of the land in Wyoming is presently owned by the federal government. He said that action would potentially double the state's revenues from oil and natural gas and eliminate any need for possible revenue increases.
He also speculated that such a move by Wyoming's governor would create a "cascade" of states' rights issues being raised across the United States.
Rammell called Governor Mark Gordon a "radical environmentalist" and "an enemy of the state."
Rammell ran as a third-party candidate against Republican Gordon and Democrat Mary Thorne in 2018, receiving just over 3 percent of the vote.
In addition to his focus on taking back federal land, Rammell said the statewide public orders issued in Wyoming have been overreaching.
He said in terms of addressing Wyoming's projected budget shortfall, the state should look at cutting employees. He said Wyoming has a huge government for our population, and there are "absolutely" cuts to be made in the state's administration.