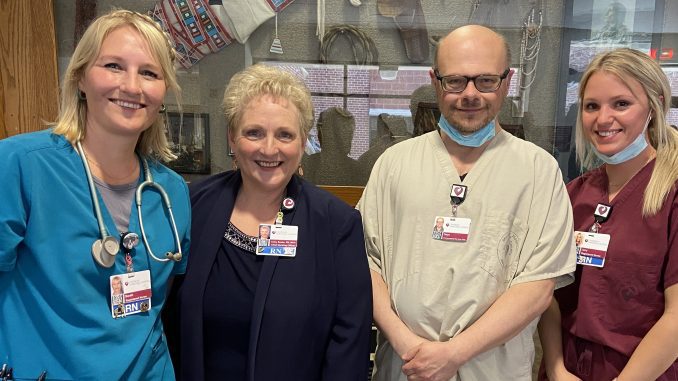 Each year, Sheridan Memorial Hospital (SMH) celebrates Nurses Week with several traditions. One of them is presenting awards to outstanding staff: Nurse of the Year and Friend of Nursing. Chief Nursing Officer, Cathy Bealer presented the awards at the ceremony on May 10.
Nominations for both awards are submitted by employees who want to recognize their peers. The announcement of these awards is timed to be just in time for Florence Nightingale's Birthday, May 12 – which is the culmination of National Nurses Week.
The Friend of Nursing Award, which recognizes non-nursing staff for their work in communication, attitude, responsiveness and engagement as it relates to nursing, was presented to Dean Nagel who is an Environmental Services Aide.
According to the nominations written by some of his peers: "Dean is always smiling and cheerful all day. He is happy to do whatever is asked of him without complaint no matter what the task. During the days when we had the COVID hall he would check every garbage to make sure that it was empty and ready for use. He never complained about having to double bag each and every bag that came out of that hall. He will greet people every day and ask how they are doing and if he hasn't seen them for a few hours ask if everything is ok. He thanks us for everything we do and expresses appreciation. He always stops what he is doing to acknowledge people. He brings treats to nurses who are feeling tired and lonely and never fails to show us we are valued and appreciated. Dean is a friend to everyone. He has a contagious spirit and truly care about his coworkers. He goes above and beyond to make sure that the hospital is sparkling and work areas are clean. He does it with the best attitude we have ever seen. He is well respectful and courteous of patient care and people walking through the hallways. He is a blessing to us."
Additional nominees for the award included: Brianna Julien, Med/Surg CNA; Jessica Nyberg, Women's Health CNA; and Yolanda Petermann, Welch Cancer Center CNA.
The Nurse of the Year Award acknowledges a nurse who demonstrates exemplary dedication to the profession, to patients and to the hospital. There was a tie for this award and the two winners are: Jacy Todd, ICU Nurse and Sarah McDonald, Oncology Nurse at the Welch Cancer Center.
Jacy Todd's peers had this to say: "Jacy possess knowledge beyond her years of experience as a new nurse. She is invested in being the best nurse that she can be. She is highly involved in the Sheridan and Buffalo communities and cares so deeply for the communities by the excellent patient care that she provides. She makes sure the little things are done for her patients. She has a drive to constantly learn more about her patients and conditions. She takes challenges head on and prepares herself by doing research and asking many questions to provide the safest and most complete care for each patient. On a day that there was a very sick, complex ICU patient requiring complex care, she visibly "adjusted her armor" and prepared herself to take on this challenge. Even though I checked on her many times, she didn't need me and her attention to detail and ability to be a humble leader was showing through every step of the way. She has stepped up to cross train in another specialty. Her maturity in going about this quest was impressive. She is now fully cross trained in two departments. Her infectious smile and attitude make her one in a million. We are blessed to have her."
Sarah McDonald's nominations stated: "Sarah shows up daily for her patients and team with a genuine smile, positive demeanor and willingness to provide a positive patient care experience. She is a role model of behavior in how she treats patients with great care and is interested in learning who they are as a person and truly embodies our guiding principles in all of her interactions with patients and staff. An example of her caring nature beyond excellent patient centered care was when she went to one of our patient's homes when they were close to passing away to play and sing songs of comfort and make sure they had company since they didn't have family in town. She wanted to ensure that he felt surrounded by care, a presence of someone with him during this time, and he heard some of his favorite music. She is also an active participant in her own learning. She creates amazing experiences for the patients and has an innate ability to bring together the team to appreciate the unique qualities each person has to offer the center as a whole. She walks as a humble and caring nurse every day that she comes in. She is dedicated to the excellent care of our patients. She is an example of positivity, skill, professionalism and our guiding principles."
Additional nominees for the award were: Shawn Smith, ICU Nurse; Elizabeth Draznin, ICU Nurse; Chad Slyngstad, House Supervisor; Christin Roberts, Med/Surg Supervisor; Shelley Meier, Certified Wound Care Nurse; Katie Carlson, Rheumatology Nurse; Nicole Opitz, Welch Cancer Center Oncology Nurse; Sue Goodell, Employee Health Nurse; and Kristy Buckley, Transitional Care Nurse.
According to Cathy Bealer, Chief Nursing Officer, "These award winners and all our nominees deserve recognition and appreciation for all they accomplish to bring care to our patients and community. They exemplify quality in nursing and set the standard for organizational excellence. Their outstanding contributions and dedicated work makes Sheridan Memorial Hospital the best place to go for patients, their families and our community."