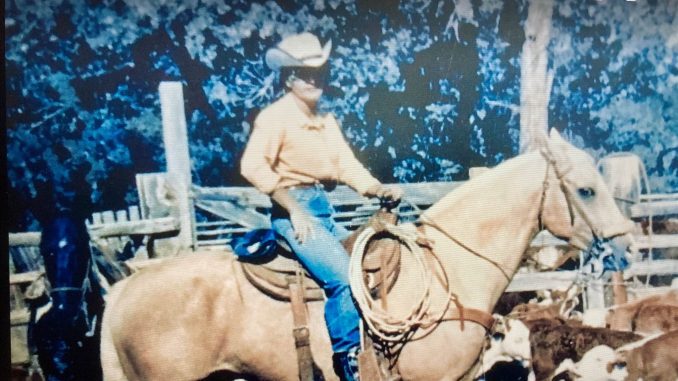 Private family interment for Arlene "Tat" Yeigh Bunning, 95 year old longtime Kaycee resident who passed away early Saturday morning at the Johnson County Health Care Center in Buffalo, will be held by her family next summer. Donations in Tat's memory may be made to the Hoof Prints of the Past Museum in care of the Harness Funeral Home at 351 N. Adams in Buffalo. Online condolences may be made at www.harnessfuneralhome.com
Arlene "Tat" Louise Vest Yeigh Bunning was born at her family's Meadow Creek Homestead near Midwest, Wyoming, to Ernest Vest and Nola Streeter Vest. She was delivered by her midwife grandmother Annie Streeter on May 11, 1925. Tat grew up on the homestead during the Great Depression with her sister, Dorothy Vest White. Working with her father on the ranch she developed an incredibly strong work ethic, love for animals, and became a gifted horseman. Tat attended Buffalo High School and after graduating, went to the University of Wyoming, where she obtained a teaching certificate. For several years she taught grade school in and around the Kaycee area. After World War II, she married Rex Yeigh, and together they raised five children. They often worked together ranching, running heavy equipment and whatever came along, while caring for their family. Tat lost Rex in 1984.
In later years she was fortunate to find and marry Harold Bunning, with whom she shared several wonderful years. They made their home in Kaycee and enjoyed traveling by motorhome until Harold's death. Tat spent her later years doing what she enjoyed most: traveling (to Japan and Israel), working and caring for her family. Her faith deepened during this time, her motto becoming "Thy will be done".
She is survived and will be greatly missed by her children Gary Yeigh and his wife Cathy of Kaycee and Florida; Deanna Yeigh of Kaycee, Wyoming; and Dick and Judy Bunning; grandchildren Michael, Jess, Jacey Cifuentes, Kylie Cook, Kale, Rex, Dustin, Sam and Brittney and many dear friends. She was preceded in death by her husbands Rex and Harold; her children Edward, Raymond and Sue; and grandson Nate.