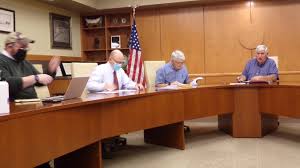 The Sheridan Economic and Educational Development Authority board – SEEDA for short – has approved two change orders in work being done on the new Kennon manufacturing facility, providing the cost of the work doesn't exceed project estimates.
Action came during the SEEDA joint powers board meeting Tuesday and will involve changing the concrete floors in the building to epoxy and installation of acoustical ceiling panels.
Kent Anderson, manager for the project, said epoxy flooring is much more durable, but Kennon CEO Joe Wright said a big reason for the epoxy flooring is that it's anti-static.
Wright said the acoustical panels were to abate noise in the manufacturing area.
Estimated additional cost is a little over $323,000. Anderson said that could come out of the Kennon project's contingency funds, currently at $375,000.
But SEEDA Chairman Gary Koltiska said he felt like the board needed to get bids and see if that cost could be lowered. In the interest of time, approval was given conditional on the SEEDA staff seeking bids for the work.
In a related matter, the SEEDA board voted to include a civil rights provision in the lease with Kennon. The provision is required because the Kennon project is funded in part by a federal Economic Development Administration grant. The language meets federal employment law and states that Kennon will not discriminate against anyone based on race, color, national origin, religion, gender, age or physical or mental ability.
In other action Tuesday, the SEEDA board met in executive session to discuss legal and real estate matters but took no action following the discussion.