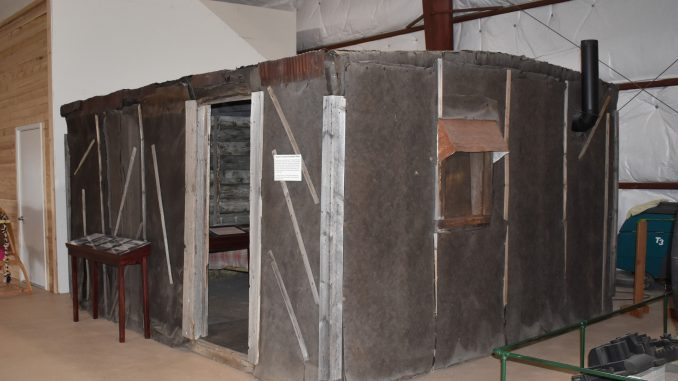 A tar-paper covered homestead shack, on display at the Rock Pile Museum in Gillette, Wyoming.
The Homestead Act of 1862, was a way to distribute American's public domain and turned over vast amounts to private citizens.
The homestead act underwent several changes over the years. It was soon discovered that what worked for farmers in the east and Midwest, where there was more water and more rainfall, wasn't feasible here in the harsh, arid, high plains climate. The 120 acres eventually went to 640, and still many starved out, especially during the dust bowl years of the 1930s.
However, many did make it. It took hard work, grit, and sometimes by being so broke they couldn't leave. By 1934, the government processed over 1.6 million homestead applications and than 270 million acres passed from the government into the hands of individuals. Those that did make it, found the sacrifice and struggle were worth the effort.
In Bill Barlow's Budget, Douglas in May of 1914 describes the Homestead Act. Law Of The Land The first homestead act, approved by Abraham Lincoln, May 20, 1862, has done more to provide homes for the people of America than all other land acts combined. It is brief and reads as follows: Sec. 2289, Every person who is the head of a family, or who has arrived at the age of 21 years, and is a citizen of the United States, or who has filed his declaration to become such, as required by the naturalization laws, shall be entitled to enter one quarter-section or a less quantity, of unappropriated public lands, to be located in a body in conformity to the legal sub-divisions of the public lands; but no person who is the proprietor of more than one hundred and sixty acres of land in any state or territory shall acquire any right under the homestead law…- Laramie Republican
In the Glenrock Derrick, in January of 1887 it talks about land around Glenrock as a way to encourage people to come west and homestead.
Poor Man's Opportunity Found In Homesteading While oil is the vehicle upon which the frantic searchers for that commodity hope to ride to affluence, …. land inducements promise handsome profits, and in some cases considerable wealth, to those who prefer to cultivate the surface of the earth to produce the prime essentials of life rather than to delve far below for the hidden and more uncertain treasures. beneficent government, by recent law enactment, has made it possible for any man or woman of legal age to obtain for the asking full square mile, or 640 acres, of land, that with the proper care, will make the owner independent for life. …..The public domain is becoming so restricted that unless one acts quickly he will be forever barred from participation in the government's free land grants.
Since the section homestead law went into effect only few months ago more than 100 new settlers have come into this country and many of them are even now preparing to raise crops this year for the augmentation of the nation's badly needed food supply.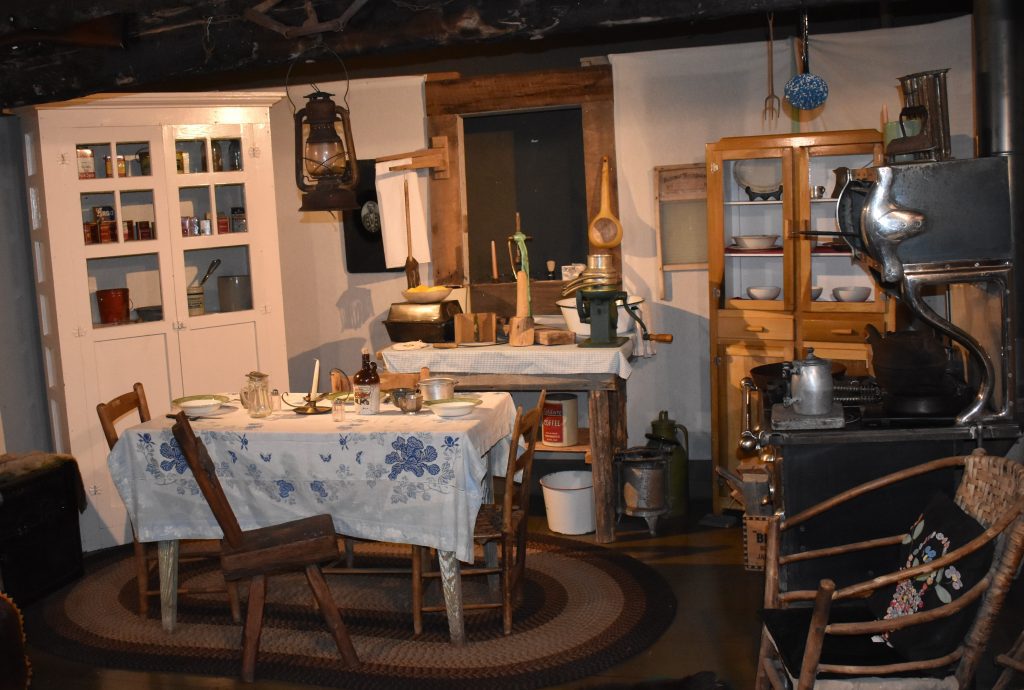 Unusual Chance for Homesteader. For the man without means, who is seeking permanent home, no section of the country can offer the inducements that can be held out here…. Stockmen, who have been deprived of the open range, anxiously await the time when this land is proven up that they may purchase it for their own use, so that market is ready provided for the sale of the land in case the holder cares to dispose of it. (This happened a lot. Many big stockmen purchased the homesteads, and many disillusioned homesteaders were happy to take their money.)
The land is rolling prairie land and in majority of cases from 160 to 400 acres can be tilled, the remainder being good grazing land. Dry farming has been successful in this district, the average rainfall being generally sufficient to bring crops to maturity in places subterranean springs and streams give positive assurance of plenty of moisture and in these places the meet delicious water tor domestic purposes can be procured at depth of very few feet.
In the Wyoming Weekly Leader Cheyenne, A Republican-leaning newspaper, had this story mentioning the homestead act on July of 1868, The Republicans in Congress passed the Homestead Bill, which enables every man to live free on his claim of one hundred and sixty acres, for five years before paying the purchase money or taxes on it. Does that not work in favor of the plow holder? ….The party which elevated Gen. Grant to the Presidency, is the party which devoted the free soil of the west to free labor; it is the party which, through the homestead law, has, given free homes to free men.
In the Sheridan Enterprise in April of 1892, there is this article.
George W. Allen, better known as "Land Bill Allen, died in an Ohio poor-house, he spent a handsome fortune in getting his homestead law before the people, and many thousands owned their beautiful homes to his untiring Labors. His original bill of 1863 has been times amended, but its principles have been preserved. Now that he is dead there is a movement to raise a monument to his memory.
Much of the Sheridan area was settled by homesteaders. While there was some homesteading early, with the coming of the railroad brought in many more fortune seekers west with the dream of being their own boss and owning their own plot of land. The prime land went first, with water being one important factor in whether the homestead would be successful or not.
Sheridan County encouraged homesteaders to come to the area.
In The Sheridan Post, in June of 1891: Many letters of inquiry concerning this country ask for information regarding the cost of living. Suffice it to say that dry goods and clothing run a little higher in price than in the older states, say 5 to 15% but wages of good hands are nearly double the same in the East, and so goods are really cheaper in proportion here than there. Groceries, owing to the long distance of freighting, are usually sold here 20 to 25per cent, higher than in the East. During last year flour of good quality produce by mills of our own county, sold as low as $2.25 to 2.50 per 100 pounds. Lands for those who prefer to buy rather than take up "homesteads" or "desert claims" and government land, can be had with good water rights at from $10.00 to $20.00 per acre.
And in December of 1895

The homesteader had five years to 'prove up' on the claim, that is build some kind of a house, make improvements, (often just planting trees, which in many places are still standing,) and some kind of farming to prove that they could live on the land. Many starved out, gave up the homestead, and moved into town for an easy shot at making money.
Ben Vannoy came to Wyoming from North Carolina in 1905, saw the Big Horn Mountains and the clear, clean water in Big Goose Creek, and decided to stay. His experiences were typical of those of homesteaders in Northeast Wyoming in the early 1920s.
Vannoy worked in Sheridan for a time and in 1906 he married Alice May Sawin, the daughter of another homesteader, and they purchased a relinquished homestead near Clearmont in 1917. His homestead was nine miles from Clearmont, and there were a lot of neighbors. In his memoirs Vannoy noted, "The country between town and my place had all been homesteaded. There were more than a dozen gates to open and close."
In her memoirs, "Ramblings of a Housewife," Mary Vannoy Betz, born in 1919 as the sixth of Vannoy's nine children, remembers that her father was a diversified farmer. He raised cows, hogs, wheat, corn beans, chickens, eggs and turkeys, all helped to bring in some much needed money.
Homesteaders did whatever they had to to make ends meet. Large families were the rule back then, as each youngster could contribute their labor to the homestead.
Living was bare bones due to lack of ready cash. Betz says this, "We ate lots of beans and cornbread and pork, home-cured. It was always too salty. Never much beef, and the deer hadn't showed up in our area at that time…..These were the 'Good Old Days' kerosene lights, lanterns, outdoor privies, carry in water, carry out the slops. Carry in the wood, carry out the ashes, carry in the coal, most of it dug out by hand out of a bank somewhere."
Cooking was done on a coal stove, and ice boxes, like a refrigerator but cooled with a chuck of ice, or a cistern that was filled with snow in the winter, and root cellars kept produce and home canned goods cool. Ice was cut from reservoirs, hauled to the ranch house in wagons, and stored in an ice house, often a hole in the ground with low sides and roof. Ice was stored between layers of straw, and would hold for several months. Butter and ice-cream were churned from fresh cream from the milk cows.
"We went everywhere by horseback. Dances, visiting, and Frank and Wallace, (two of her brothers) rode horseback to high school in Clearmont," Betz said.
Once a homesteader had proved up, he could apply for more land. In a Sheridan Post in December, 1921 Benjamin F. Vannoy, Clearmont, Wyoming, additional stock raising homestead entry for lands in section 25, township 53 north, range 78 west.
Vannoy found the money, or had the credit, to purchase the homesteads surrounding his small holding to build up a ranch of some 20,000 acres at one time. His story is fairly typical of how other ranches in Wyoming got their start. In his memoirs, privately published, he says, "In spite of hardships, droughts, poor prices, I came thru with good credit. I don't know of one man in the country that ever succeeded if his credit was not good."
In Wyoming, it was tough to make a living even on 640 acres. Today, most homesteads have been absorbed into larger ranches, either the homesteader buying up land to add to his claim, or selling out to a larger rancher.
Very remnants are left. An occasional tumbled down house, abandoned and empty, or a framed up door of an old dugout. A few homestead cabins are even preserved in museums. These represented families and dreams of a good life that often were not realized.
Or one may see an orchard of fruit trees, patches of rhubarb, and even occasionally flowers that once graced the yard of a beauty-loving homestead wife, are all that is left of an era of people chasing the dream of free land.