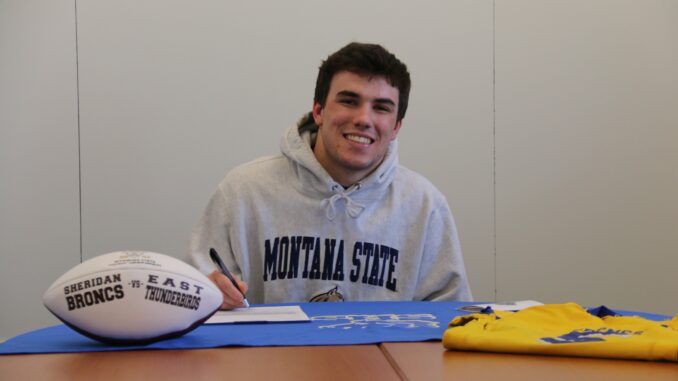 A Sheridan Bronc football player and Wyoming's first 2-time winner of the Gatorade Player Of The Year Award, has made his decision on where he will continue to play, and he will possibly play along side his older brother.
Colson Coon has signed his letter of intent (LOI) to play at Montana State University, after leading the Broncs to back-to-back state championships.
In his senior year at Sheridan, he ran for 2,195 yards and scored 34 touchdowns on the ground, caught 2 others, and threw one as well.
He also set a Wyoming 11-man football single game rushing record this past season, with 517 yards in the state semi-finals.
His older brother Garrett, is a Gatorade winner himself and also helped Sheridan win 2 state championships.
He will be a redshirt sophomore next season at MSU.
Colson says football runs in the family and Garrett had a little bit of influence in his decision.
"My dad was a big football guy and my older brothers played football so I was always watching them and going to their games and so that kind of just made me love the game. I've just been playing ever since I could. I know he wanted me up there, but at the same time he wanted me to make the right decision for myself, but he definitely wanted me to go up there with him and I just think it would be cool to go play with him, but he's super excited that I'm coming. I guess me and Garrett will be fighting for a position, but we'll be doing it together."
Colson said he is considering a future career as a chiropractor, a physical therapist, and athletic trainer, or something along those lines.
He adds he had talked to The University of Wyoming, Chadron State, Montana Tech and North Dakota State among other places.
Coon was about to commit to Mississippi State, but after the sudden passing of Coach Mike Leach, and the subsequent changes in the coaching staff, he says he lost contact with the Bulldog program, and had a change of heart.