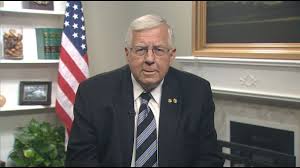 Wyoming's U.S. Senator Mike Enzi has voiced concerns about access to a COVID-19 vaccine in rural areas like Wyoming.
During a Senate health committee hearing to get an update from federal officials in charge of the official response to COVID-19, the Republican senator said some of the vaccines in Phase III testing need to be stored at temperatures as low as negative 94 degrees.
He said many facilities, especially in cash-strapped or rural areas, don't have the specialized freezers necessary to store the vaccine. Enzi said very few, if any, freezers even get that cold, and he asked how we can ensure freezer and storage capacity so that access to the vaccine isn't limited by infrastructure concerns.
Robert Redfield, director of the Centers for Disease Control and Prevention, said the CDC would work to distribute the vaccine in an equitable and fair way. He said over the upcoming weeks, strategies will be needed to fill the gaps for proper cold storage, and he said the CDC is committed to making sure distribution happens in an equitable way.
Redfield assured Enzi that the CDC is working to ensure states are prepared to distribute a vaccine once it's approved, including sharing best practices and working to create micro-plans for different areas of the country.