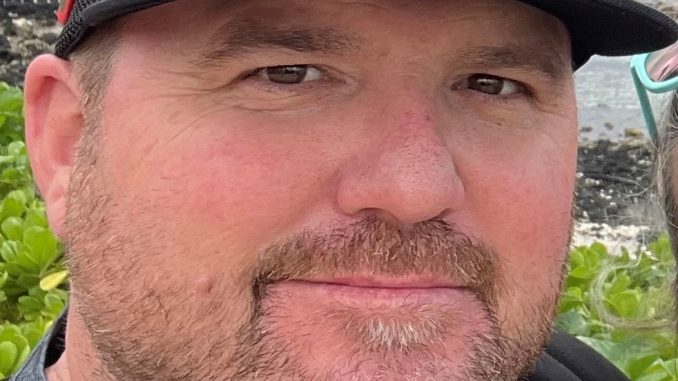 Justin or "Chase" as he was affectionately known, lost his battle with Covid on Wednesday night November 17th. He was an amazing husband, Dad, son, brother, uncle, nephew, cousin, and friend. Justin was born on May 9th, 1981, to Kerry and Nancy Chase in Omaha, Nebraska.
There are so many memories and moments but if we can tell you the quick version of how this big hearted, hardworking, Southern California boy ended up as a cherished husband, father, and friend read on.
Justin first met Mindy in May of 2000 when his prom date (a friend of Mindy's) informed him that her friend had just been stood up. He came to the rescue when he "instructed" his friend Greg to get a suit from his closet and the limo would be there to pick him up. His giant heart was apparent from the get-go, but Mindy was not easily swayed. They hung out as friends for the next couple years before Justin finally asked her on a date through a letter. For the next four years they dated and were officially married in Peoria, Arizona on March 11th, 2006. A wonderful honeymoon in Hawaii left them a beautiful gift a year later when Kaylee Patricia was born. January 31, 2007 would mark the beginning of Justin's life as a Dad. They loved being parents so much that Aubrey Justine was born just a short eighteen months later on August 8th, 2008. In May of 2010 Justin and Mindy decided to take a "leap of faith" and moved their family to the beautiful town of Sheridan. It didn't take long for life in Sheridan to become exactly what they'd always dreamed of, camping at the Rez and the Bighorn mountains on the weekends, softball on the weekdays. Work, coaching, friends, and any reason to gather together became their life.
Softball brought so much joy to Justin's life, in fact many of his good friends today he met on the field. It can probably be said that he has more jerseys than most people have t-shirts. He managed every team he was on and was the guy everyone knew to call if they wanted to play. Speaking of sports, he was a die hard San Diego Padres fan and would talk a little smack even if it was just the first week of the season. Football Sundays were a thing at the Chase household. Most Sundays you can find any number of family and friends gathered in the living room cheering on their respective teams all the while knowing the Chargers game trumps all.
In 2012 Justin began working at Big Horn Beverage and created lots of meaningful relationships. His work ethic, ability to solve any problem, and willingness to help anyone in need set him apart.
If you knew Justin, you would know his greatest passions include loving his wife and supporting his daughters. Justin spent all his spare time planning trips and making memories with his family. He was relentless about putting his family first and showing them unconditional love.
It's been said by many that Justin knew no strangers. He had a smile that could light up the room and a laugh that could make anyone feel better. His big chest was the perfect pillow, and he was "Uncle Justin" to many. It would be hard to find a man who loved his family more, who worked any harder, or who had such a heart for helping those around him. He will be missed by so many, and the world will never be the same without him.
Cherished survivors include his wife Mindy, daughters Kaylee and Aubrey of Sheridan. His parents Kerry and Nancy of San Diego, his in-laws Jack and Kathleen Wood of Sheridan, his brother Jason (Brenda) of San Diego, brother Shawn and sisters Lisa and Janice of Nebraska. Cousins, nephews, and so many friends who felt like family. Justin is preceded in death by his Grandmother Gloria.
Services will be held at 3pm, Sunday, December 5, 2021, at First Baptist Church, in Sheridan Wy. In lieu of flowers, donations may be made to Kaylee and Aubrey's college funds. Please make checks payable to Edward Jones and mail them to Mindy Chase at 1036 Avon St. Sheridan, Wy 82801.
Online condolences may be made at www.sheridanfuneral.com. Arrangements are under the care of Sheridan Funeral Home.