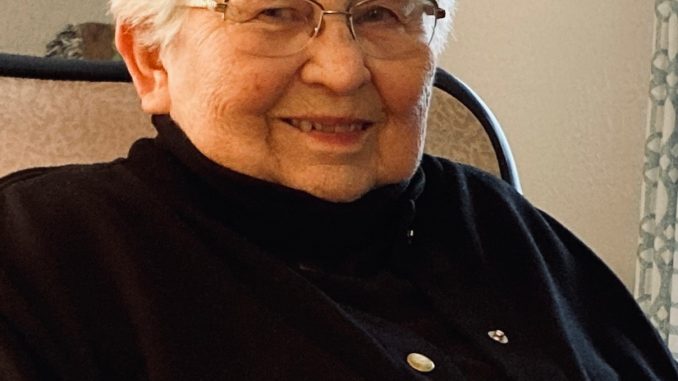 Funeral services for Dordy Prosinski, 88 year old Buffalo resident who passed away quietly Wednesday in Buffalo surrounded by her family, will be held Thursday, May 20th at 2:00 p.m. at the Harness Funeral Home Chapel in Buffalo with Mark Wilson and Dan Gay officiating. Visitation will be held from the Funeral Home on Wednesday from 1:00 p.m. to 9:00 p.m. and on Thursday from 9:00 a.m. to 1:00 p.m. Interment will be in Willow Grove Cemetery with graveside services to follow the funeral. Donations in Dordy's memory may be made to the Johnson County Youth Rodeo in care of the Harness Funeral Home at 351 N. Adams in Buffalo. Online condolences may be made at www.harnessfuneralhome.com. The funeral will be livestreamed from the funeral home website.
Georgia Lee Prosinski was born on December 27, 1932 in Buffalo, Wyoming to George and Jean (Burris) Murray. She grew up and went to school in Buffalo and graduated from Johnson County High School with the class of 1951. She was married on April 4, 1952 in Buffalo to Bobby Myers and they made their home in Buffalo where they had three daughters. Bobby passed away suddenly in December of 1964 and Dordy was later married to George Kemerling and they lived in Gillette where they continued to raise the three girls. Following a divorce she was married to Frank Prosinski on April 30, 1983 in Buffalo. Frank and Dordy owned and operated Ray's Liquor and Dordy worked at the IGA as a bookkeeper. Frank passed away in 2008 and Dordy continued working at the IGA until she retired at age 87.
Dordy was a talented seamstress and made wedding dresses, rodeo shirts, suits and costumes for the entire family. Her passion was spending time with her kids, step kids, grand kids, great-grand kids and great-great-grandchildren.
She is survived by three daughters Jodi Myers, Kim Peters and her husband John and Tanya Myers all of Buffalo; two step sons, Paul Prosinski and his wife Kim of Buffalo and Steve Prosinski and his wife Shelley of Billings, Montana; one step-daugher Joan Quesada and her husband Gil of California and one step-daughter-in-law Lisa Prosinski of Casper; one sister, Patsy Mauck of Buffalo; seventeen grandchildren, Stacey Ridley, Krystal Pruzinsky and her husband Steve, Rob Myers and his wife Gwen, Caleb Knifong, Callie Munsick and her husband Sam, John Peters and his wife Nicole, Jed Peters, Jacob Peters, Katie Ramirez and her husband Adam, Nick Prosinski and his wife Kaitlin, Joslyn Camino and her husband Luke, Marta Prosinski, Laura Leen and her husband Nick, Bryan Prosinski, Chris Prosinski and his wife Lexie and Alexander Quesada; thirty great-grandchildren, Ridley, Tayden, Rachel, Stevie, Robby, Nick, Mason, Aiden, Aeryn, Rylan, Teila, Jamie, Lindsay, Tyson, A.J., Ezekiel, Isaac, Sienna, Violet, Macklee, Briggs, Rylie, Braxtyn, Sterling, Graycen, Decker, Augusta, Everett, and Alexander and numerous nieces and nephews that were very important to her. She was preceded in death by her parents, two husbands, one sister Jessie Timar, two brother-in-laws Darrell Mauck and Louie Timar, two sons-in-law Terrill Knifong and Chuck Evitt and one step-son James Prosinski.