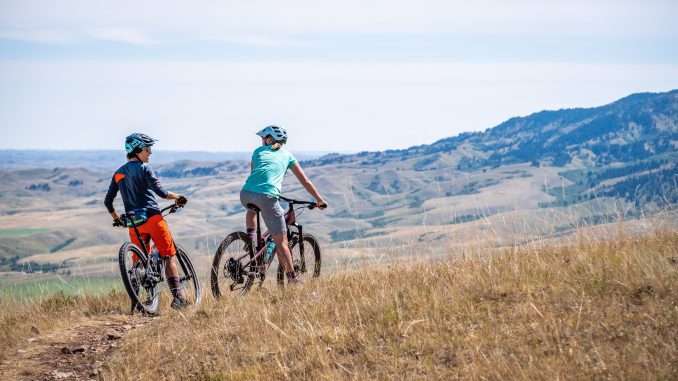 At the beginning of December, Pam and John Standish issued the community a $30,000 Holiday Match Challenge to raise money for the Sheridan Community Land Trust.
According to a news release from the SCLT, the community answered to the tune of 172 donations which resulted in over $109,000 that will be used to support SCLT projects and operations in 2021.
"It is wonderful to know so many kind, caring friends answered the challenge of Pam and John Standish," SCLT President Susan Holmes said. "Thank you to all of our friends who supported the Sheridan Community Land Trust this holiday season. Your kindness and generosity confirm the importance of SCLT's mission. I hope our community continues to enjoy the work so many people have made – and will make – possible in the new year."
SCLT Executive Director Brad Bauer agreed.
"It never ceases to amaze me just how supportive our community is, and this year's holiday drive is no exception," Bauer said. "Whether it is community trails, telling the stories of our community's past, conserving our community's open space and working lands, simply creating new ways for community members to enjoy the outdoors or sharing their time as volunteers, it is clear our community is eager to help build an even more special Sheridan County."
According to Bauer, SCLT received three additional gifts that will also aid the SCLT. Those include the gift of a mirrorless camera and lenses for photography and videography, two cordless chainsaws for trail construction and maintenance.
A third gift will include videography that will be used to allow community members to watch the virtual Big Goose Creek Walking Tour – one of several projects that aim to preserve and share stories of Sheridan County's history.
Approximately 70% of SCLT's annual budget consists of donations from community members. According to Bauer, the tremendous outpouring of support put the organization near the budget targets with more than five months remaining in its fiscal year. That is important, he said, because it means community members have ensured SCLT will have the resources it needs to complete many upcoming projects.
"The 'C' in 'SCLT' stands for community and that is as true today as it has ever been," Bauer said.
Community members can look forward to many great projects and programs in 2021. Among those are new opportunities to explore an expanded Red Grade Trails and historical tours. It also includes projects that explore how people have interacted with the land in Southeastern Sheridan County, Plains Indian Tribes' connection to the Bighorns, the history of Red Grade Road, the history of local dude ranching, partnerships with local landowners on ways to sustain water used for residents, ranches, plants and animals. Other projects include a full slate of educational, entertaining and free Discovery Sessions. 
For more information about the Sheridan Community Land Trust, to see trail maps or to learn about upcoming Discovery Sessions, please visit https://sheridanclt.org.