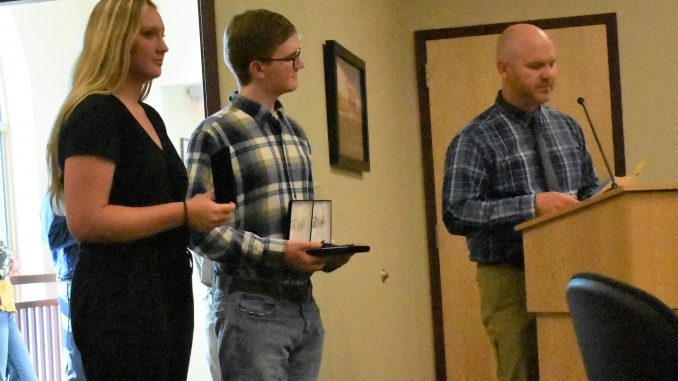 Silver Medal winners McKailyn Malles, Henry Dickinson with Mitch Craft
The monthly meeting of SCSD#2 was held on July 12 at the District Office. The meeting opened with Mitch Craft introducing two Congressional Award Silver Medal winners, Henry Dickinson and McKailyn Malles, to the board.
The Congressional Award is the United States Congress' award for young Americans. The program is open to all youth regardless of ability. Participates are awarded bronze, silver, or gold medals. Each level involves setting goals in four program areas; Public Service, Personal Development, Physical Fitness, and Expedition/Exploration. This award honors students for achieving their goals.
Craft explained that the award was established in 1979, and was sponsored by Wyoming Senator Malcolm Wallop, and James Howard of New Jersey.
Dickinson received his award for his contribution to the community garden project in Sheridan and other activities in the exploration segment of the program, including a cannon shoot.
Malles award was given for her personal development achievement in raising money for the Make-A-Wish foundation.
Craft added "It is an honor to have two students in our district receiving these silver awards. The Congressional Award winners are a very minute group of students throughout the US."
Clay Christensen and Kassi Bernhardt John B. Kendrick Chapter FFA Advisors, introduced the FFA State Champions for FFA Creed, Jhett West, and FFA Beef Proficiency, his brother Braden West.
Jhett West performed his winning FFA Creed speech for the board.
Scott Stults, new superintendent, gave a construction report on the John C. Schiffer school. "Progress is being made, and we are looking at doing a tour later in the summer," Stults said. He also reported on the High School Ag. renovation project, and said that the backboards for the gym are in and are ready to install. "The bleachers will arrive later this month," he told the board. He added that the Junior High Music wing is an upcoming project.
Board chairman Sue Wilson thanked Stults for his hard work on the projects, and Stults in return thanked his team.
There will be four luncheon meeting work sessions during the year, Sept. 20, Dec. 13, Feb. 14 and May 16.
The board also voted to approve the handbook revisions presented by Rebecca Adsit. Shawn Stevens approached the board about bus routes on public and non-public roads in the district, and the board voted to approve the bus routes for the upcoming year.
Wilson said she had heard from some parents about the school supply lists that are posted at various businesses, and wondered if the school could post these lists sooner. "Some parents want to spread out the expense," she added.
The district will also welcome 30 new teachers this fall, those teachers are mostly replacements for those who have retired or resigned.
Meeting was adjourned at 6:45 p.m.