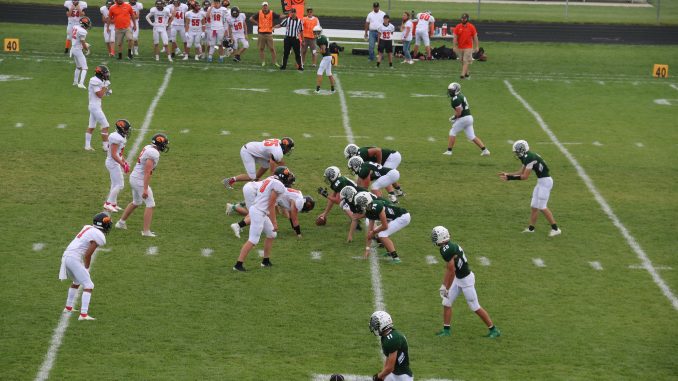 It was ugly, but Tongue River finally got the Burns monkey off of their back.
Garrett Ostler's 37 yard field goal in the 4th quarter, plus a major snap miscue by Burns, allowed the Eagles to secure their first win 7 tries vs. the Broncs.
Burns elected for an intentional safety so they wouldn't have to punt out of their own end zone, but they had to find a way to get the ball back.
In the end, TR was able to hang on to the ball, get first downs, and run out the clock.
Tongue River's main problem was finishing drives.
The Eagles got into the red zone three times in the first half, and came away empty each time.
TR is now 2-0 overall, and 1-0 in the 2A East.
The next game for the Eagles is scheduled for Friday, September 17th at Torrington at 6pm.
The Trail Blazers are last year's 2A State Runner-ups.
1st Quarter:
0:00 – 0:14 Eli Cummins 35 yard pass to Nate Guimond from Tongue River 47 to Burns 18
0:15 – 0:25 Brandon Winslow (Burns) sacks Cummins (Tongue River) on 4th down.
0:26 – 0:34 Burns with a bad snap. Cashe Van Tassel (Tongue River) recovers fumble at Burns 30
2nd Quarter:
0:35 – 0:49 Javin Walker (Tongue River) intercepts Caden David (Burns)
0:50 – 1:05 Cummins 37 yard touchdown pass to Garrett Ostler – Tongue River 7 Burns 0
1:06 – 1:17 David 34 yard pass to Cooper Lakin from Tongue River 42 to Tongue River 8
1:18 – 1:34 David 19 yard touchdown pass to Lakin – Burns 8 Tongue River 7
1:35 – 1:52 Cummins 49 yard pass to Guimond from TR 34 to Burns 17. Ball then moved half the distance to goal line due to targeting penalty against Burns.
1:53 – 2:06 Guimond 5 yard run from Burns 6 to Burns 1. Ball fumbled out of bounds.
2:07 – 2:20 Burns defense stops Cummins on 4th and goal at the 1, but got penalized for having 12 players on the field.
2:21 – 2:30 Burns defense tackles Van Tassel for a 5-yard loss on 4th and goal at the 1.
3rd Quarter:
2:31 – 2:49 Lakin (Burns) intercepts Cummins (Tongue River) and returns 64 yards. Touchdown dis-allowed due to block in the back penalty called on Burns.
2:50 – 3:00 Adam Stainbrook (Tongue River) sacks David (Burns).
3:01 – 3:12 Bonner Wood (Tongue River) sacks David (Burns).
4th Quarter:
3:13 – 3:22 Ostler kicks 37 yard field goal Tongue River 10 Burns 8
3:23 – 3:32 Burns snap goes off the helmet of Riley McLaughlin. David recovers fumble at Burns 1.
3:33 – 3:40 Burns takes an intentional safety with about 2:30 remaining. Tongue River 12 Burns 8 The strategy was…why punt out of your own end zone, when you can kick from the 20 and still have all 3 timeouts remaining? The trick is, Burns had to find a way to get the ball back.
3:41 – 3:50 Van Tassel 4 yard run from Burns 36 to Burns 32. This would result in a first down for Tongue River, Burns was out of timeouts, so TR was able to run out the clock from there.