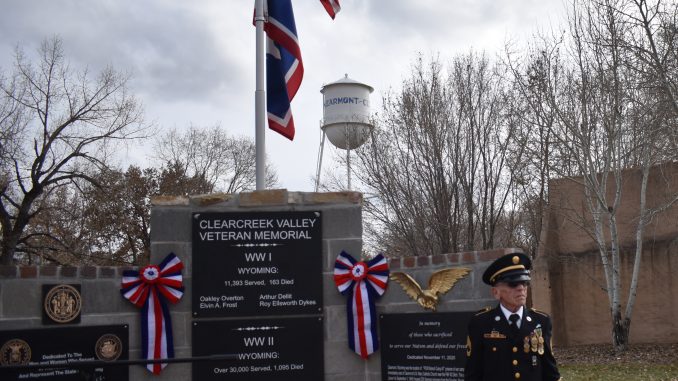 Veterans Day was the perfect day to dedicate and unveil the new Clear Creek Valley Veterans Memorial, in Clearmont. Around 33 people practiced social distancing, many wore masks, and braved the cold, cloudy, windy day to join in the outdoor dedication ceremony. Music and the sound system was provided by Mike Kuzara.
Speakers included Bruce Yates, who, along with Ira Roadier, was instrumental in planning and creating the Memorial. The Clearmont Historical Group donated some of the funds to complete the memorial.
The memorial is topped by two flags, the US flag and the Wyoming flag. The flag pole and a light to light the flags at night was donated by The Clearmont Community Center.
Yates also lead the attendees in the Pledge of Alliance.
One attendee, Rudy Pearson, Sheridan, Vietnam Veteran, appeared in his full army dress uniform. "I can still wear it," he said with a smile. A Sheridan native, Rudy said he graduated from Sheridan High School in 1963, "I went right into the army after graduation. I served in 1965 to 1967. Later, I served in the Wyoming National Guard from 1983 until 2005, and in the 9-11 Force Protection Unit."
Clearmont Mayor Greg Rhorer spoke, saying that the Memorial is a great addition to the Clearmont Community. He quoted John 15:13, "Greater love hath no one that this: That he would lay down his life for one's friends." He added that the memorial stands for just such a sacrifice, and that we owe all veterans a debt of gratitude.
In planning the memorial, Ira Roadier said he had hoped to get permission to use the State Seal of Wyoming, which was granted to the memorial. There are also seals from each branch of the service. Wyoming Secretary of State Ed Buchanan, a Vietnam Veteran, had planned to attend, but a family emergency kept him at home and Monica Meese, Communications and Policy Director with the Secretary of State Office, attended in his place. She presented Ira with a Challenge Coin, which has the Wyoming Territorial State Seal on one side and the State Seal on the other. "We are honored beyond words that you used the Wyoming State Seal on your memorial, this is the first time in has been used." Meese said.
Senator Dave Kinskey gave the dedication speech, saying that the "character of a place is defined by the people they honor and remember." He shared some insights from the Backward Glance Clearmont historical book, most notable was a brief biography of several of the Clearmont soldiers who died in the various wars.
"This memorial honors all that have served from the Civil War to today. There have been over 300 people from the Clear Creek Valley who have served our country."
After the celebration was over, taps was sounded by Will Betz on the trumpet and attendees were invited to tour the Clearmont Community Center to see the display of those from Clearmont who have served in various wars.