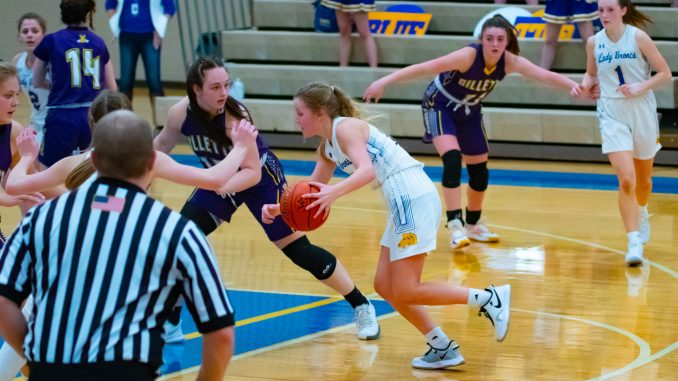 BRONC WRESTLING – The Bronc wrestlers finished up their regular season perfect with a 24-0 dual match record after beating Green River and Thunder Basin Friday now it's onto the three team regional event this week at Sheridan high school and the state championships next week in Casper.
After the last two victories Head coach Tyson Shatto says the Broncs put in the work and earned each victory.
This season was different with the COVID-19 protocols all matches were duals with no big tournaments and Tyson says they made the new format payoff.
The Broncs host Campbell county and Thunder Basin Friday to start seeding for net week's state championships.
BRONC / LADY BRONC HOOPS – The Bronc and Lady Bronc basketball teams took 3 out of 4 over the weekend the Broncs swept Cheyenne South and Laramie while the Lady Broncs earned a split winning at Laramie Saturday.
This week they play at Campbell county Friday and host games with Thunder Saturday.
BH HOOPS – The Big Horn Rams and Lady Rams had Moorcroft and Sundance the Rams got a split beating Moorcroft the Lady Rams dropped both games.
TR HOOPS – The Tongue River Eagles and Lady Eagles had a good week of action the Eagles swept victories from Wright, Riverside and Greybull the Lady Eagles won 2 out of 3.
BRONC SWIMMING / DIVING – The Sheridan Bronc swimmers and divers will be at the Wyoming state swimming and diving championships this week in Laramie prelims get underway Thursday.
INDOOR TRACK – The Bronc and Lady Bronc indoor track teams head back to Gillette Saturday for their next competition.
JUNIOR HOCKEY – The Sheridan Junior Hawks own a 26 game winning streak and stand at 27-1 on the season they also have locked up a playoff spot and now make a push to win the Frontier division championship.
They will be back on the home ice this week after a rare weekend off they will host Missoula, Montana Friday and Saturday.
UW HOOPS – The Wyoming Cowboys play at New Mexico Wednesday and Friday while the Cowgirls will host games with the Lobos.