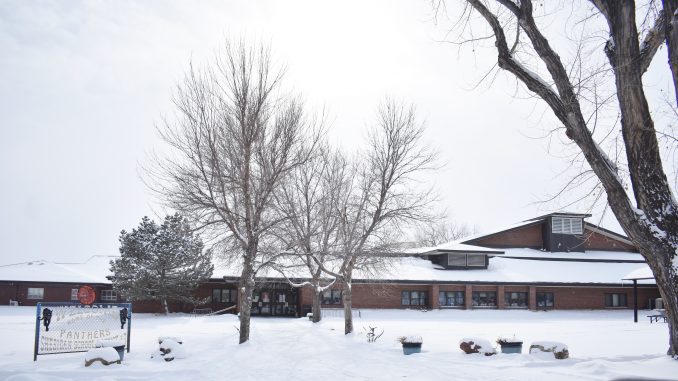 The Clearmont School Board met Wednesday evening Feb. 10, at the multi-purpose room at the School.
One item on the agenda was the changes due to the extreme cold weather that is forecast for the area. School was on a one-hour delay on Thursday morning and all activities beginning on Thursday, February 11 have been canceled.
The canceled activities include high school practice on Thursday, February 11, high school games at Hulett, high school games vs. Upton, junior high game at Big Horn, junior high game at Tongue River, and Friday, February 12 swimming for kindergarten through 6th grade.
The school board received some training from a Dr. Kessler, from the Wyoming School Board Association. "It was a good training," Superintendent Auzqui stated.
The board also discussed the upcoming application, on March 1, with the Wyoming Department of Education concerning the District 3 four day school week. The board has interviewed about 80% of the community and the response has been positive for continuing the four-day week.
Mothballing the Arvada Elementary School was also on the agenda, with two community meetings now needed to move forward with the mothballing.
Auzqui also mentioned that there were bills in the 2021 Wyoming legislative session that the school is watching, that concern school funding. HB 0077, which proposes to cutting the number of school districts in Wyoming from 48 to 24, one per county and one on the Wind River Reservation, which will have a big impact on Wyoming schools.
"We hope to attend the Legislative Session on March 14, but Covid-19 might affect that." Auzqui said.
One big impact on school funding is the lack of revenue from the mineral industry. Arvada-Clearmont School is looking at a projected 18% reduction in funds over the next few years.
"We focus on our teachers, we hand to keep everyone employed," Auzqui said. "We have to tighten our belt in other areas, such as mothballing the Arvada School. So far, we feel we can absorb the loss for one year. We may have to cut activities but we want to keep our staff employed. They make the difference at our school."
In other items, the board voted to renew Special Education Teacher Misty Ballek contract. It was also agreed to move forward with getting quotes to build a storage shed for track and maintenance equipment.