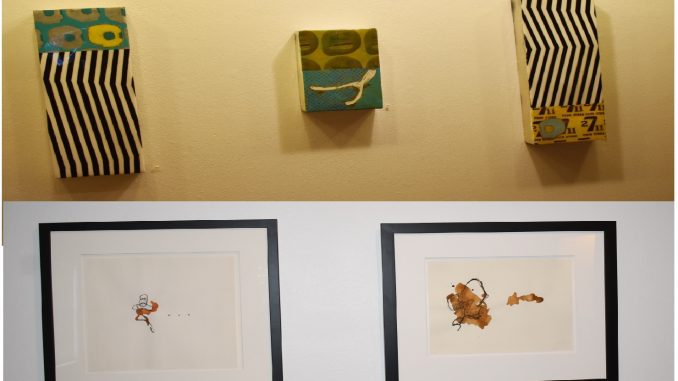 The current exhibition at the Ucross Foundation Gallery, "Marking Time," is a collection of artwork of the two recent Native American Fellowship recipients, Luzene Hill, and Heidi Brandow. The exhibit is to bring attention, via the art, to missing and abused Native American Women.
Hill, a multimedia artist best known for her socially engaged conceptual installations and performances, and is an enrolled member of the Eastern Band of Cherokee Indian.
Brandow, a multi-disciplinary artist with an active painting, printmaking, and social-engagement. She hails from a long line of Native Hawaiian singers, musicians, and traditional dancers on her mother's side, and Diné storytellers and medicine people on her father's side.
Both artists received a one-month residency at Ucross, a stipend of $2,000, and inclusion in an exhibition at the Ucross Foundation Art Gallery, which is currently being held from Jan. 11 through March 26.
"I'm incredibly honored and excited to be selected as the 2019 Ucross Native American Fellow. As an artist with an active arts practice, a full-time commitment to the Institute of American Indian Arts, and a family, I am grateful for Ucross' support in granting me the time, space, and resources to enhance my craft and create in such a beautiful setting." said Brandow, on receiving the Fellowship.
"We are thrilled to support the work of Heidi Brandow, who is one of the most exciting artists in visual arts today," said Ucross President Sharon Dynak. "It is an immense honor to continue this important new Fellowship initiative that recognizes and celebrates contemporary Native American artists."
"Ucross is also honored to welcome Luzene, a bold and boundary-breaking artist," Dynak added. "Wyoming's high plains have a deep history of Native American culture, and we're thrilled that Luzene will be able to create and exhibit her work here, through this new fellowship initiative that is so important and meaningful to us."
Luzene said of the Ucross Foundation, "The sky was so beautiful. There was a creek nearby where deer would come. It was beautiful."
Initiated in 2017, the Ucross Fellowship for Native American Visual Artists supports the work of contemporary Native American creatives at all stages of their professional careers. It is open to disciplines that include, but are not limited to, painting, sculpture, printmaking, photography, video, performance art, installation, ceramics, and projects involving multiple disciplines. Two Fellowships are awarded annually, one each in spring and fall. Art by the program's first two Native American honorees, Sydney Pursel (Iowa Tribe of Kansas and Nebraska) and Brenda Mallory (Cherokee Nation), were featured in the Ucross Art Gallery from June 3-September 28, 2019.