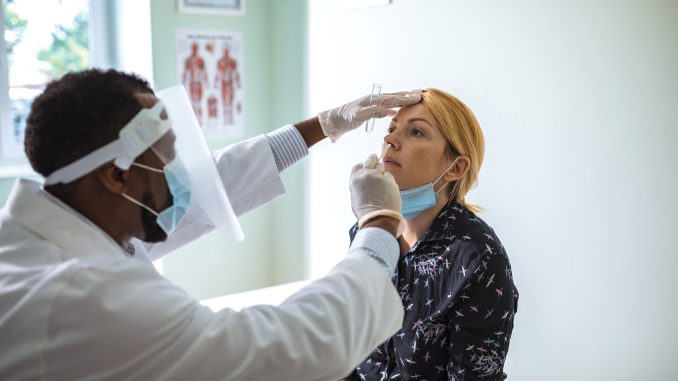 Sheridan County added 23 lab confirmed cases of COVID-19 in the last 24 hours. The number is the highest addition to the lab confirmed case count in Sheridan County in a 24 hour period since the beginning of November.
The county also added two probable cases. Currently there are 44 active cases in the Sheridan County community, according to COVID-19 Public Information Officer Jennifer Graves.
Six patients are currently hospitalized battling the virus. Sheridan County has experienced the deaths of 61 residents from COVID-19.
The Food and Drug Administration is collaborating with the National Institutes of Health's (NIH) RADx program to study the performance of antigen tests with patient samples that have the omicron variant.
According to the FDA, RADx recently performed preliminary studies evaluating the performance of some antigen tests using patient samples containing live virus, which represents the best way to evaluate true test performance in the short-term. Early testing data suggests that antigen tests do detect the omicron variant but may have reduced sensitivity.
The FDA states, it is important to note that these laboratory data are not a replacement for clinical study evaluations using patient samples with live virus, which are ongoing. The FDA and RADx are continuing to further evaluate the performance of antigen tests using patient samples with live virus.
Antigen tests are generally less sensitive and less likely to pick up very early infections compared to molecular tests. In following the FDA's rapid test recommendations, if a person tests negative with an antigen test but is suspected of having COVID-19, such as experiencing symptoms or have a high likelihood of infection due to exposure, follow-up molecular testing is important for determining a COVID-19 infection. If a person tests positive with an antigen test, the FDA recommends they self-isolate and seek follow-up care with a health care provider to determine the next steps.
The Centers for Disease Control and Prevention list Sheridan County's level of community transmission as HIGH.
More COVID-19 information is available at www.sheridancounty.com/covid-19/.
Wyoming native Floyd Whiting has worked in both broadcasting and print journalism. Raised in Auburn Wyoming, Floyd works to bring a clear understanding to the issues and news that's important to Wyoming residents.