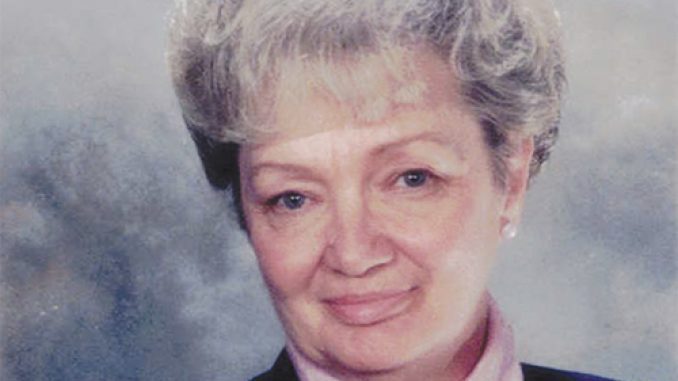 Janet Maryann Felker joined God, her beloved husband, son and family members in heaven on Feb 12, 2020, in Gilbert, Arizona.
Janet was born on January 16, 1934, in Appleton, MN to Lyle N and Amy T Fulson. She was raised in Minneapolis, where she graduated from Washington High School. She was attending The University of Minnesota when she met the love of her life, Arthur Felker. The couple was married on January 2, 1954, in Minneapolis. The next day they left for New York City as Art was in the US Army and stationed on Governors Island. headed out to find a job. She was hired by an Interior design company and so started her love for redecorating houses.
Their life together took them back to Minnesota then to Montana and finally to Sheridan, WY. In every town they lived in, there was a major home redecorating. Sometimes she was removing a wall with a hammer to make a closet bigger, perched precariously on a ladder to paint or wallpaper and making her own bricks for a decorative wall. She was a skilled seamstress and loved sewing the draperies for her home, matching outfits for the family and quilting. They owned and operated Stevens Fryberger from 1968 until it's closing in 1994. Janet loved houses and in the early 1970s became one of the first women realtors in Sheridan. She went to work full time selling real estate in 1994 when they closed Steven's Fryberger and worked for BHJ when she retired.
Janet belonged to many clubs and organizations including Mrs. Jaycees, PEO, and Threaders. She loved to attend the Steven's Fryberger Ladies Coffee and her Friday Lunch Bunch. She also enjoyed volunteering at the Thrift Store and Sheridan Memorial Hospital. Janet and Arthur were very active members of the Holy Name Catholic Church. You could find them in their usual spot every Saturday night Mass. Janet was preceded in death by her parents, her husband Art, son Jeff and her brother Robert.
She is survived by her daughter Debbie (Kurt) Law, son Paul (Traci) Felker, 9 Grandchildren Amy Wood, Danon (Cori) Law, Ian Law, Cullen Law, Brian (Teresa) Scott, Jennifer (Mike) Des Armo, Kristen Felker, Alex Felker and Presley Felker, 7 Great Grandchildren: Aubrey, Kade, Keegan, Kallan, Magnolia, Ashyr and Patrick.
Cremation has taken place. A celebratory funeral mass and interment will take place in Sheridan on May 8th, 2020, at 10 am at Holy Name Catholic Church.
Online condolences may be written at www.kanefuneral.com. Kane Funeral Home has been entrusted with local arrangements.