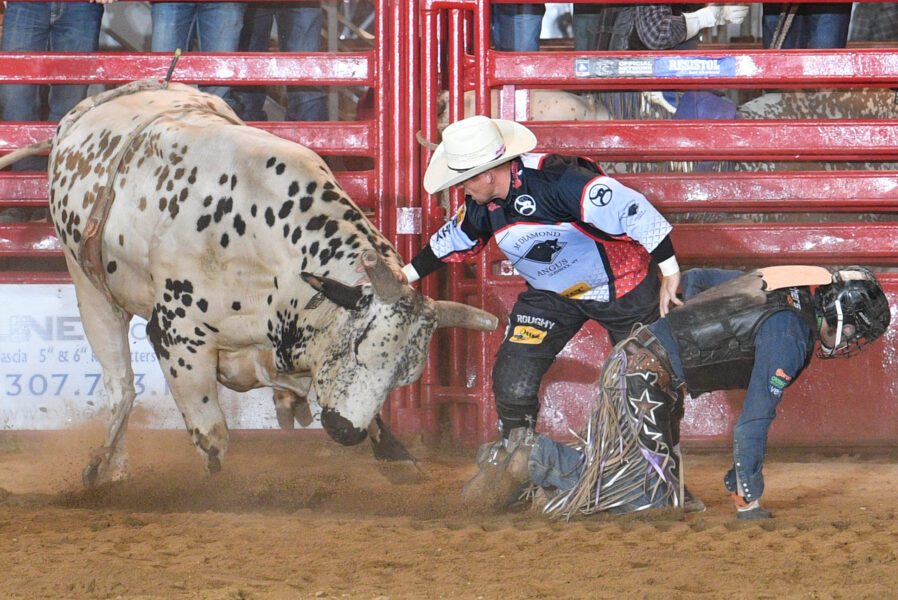 The Sheridan WYO Rodeo is proud to announce that personnel have been nominated for 2023 PRCA annual awards and been selected for Wrangler National Finals Rodeo positions, held in Las Vegas NV December 7-16.
Sankey Prorodeo and Phenom Genetics will take 14 animals to the 2023 WNFR, including six bareback broncs, five saddle broncs and three bulls.
Among them is The Black Tie, 2022 World Champion Saddle Bronc and 2023 Reserve Saddle Bronc of the Year.
Will Rasmussen, has again been nominated for Rodeo Announcer of the Year.
This will be his sixth nomination as one of the best announcers in professional rodeo.
In addition, Rasmussen has been named as announcer for the Wrangler National Finals Breakaway Roping, held at the Southpoint Hotel and Casino, December 5th and 6th.
Nate Jestes, from Douglas WY, has received two major recognitions.
He is a finalist for Bullfighter of the Year and was named one of three bullfighters to work the WNFR, alongside Meeteetse native Dusty Tuckness, and Cody Webster.
JJ Harrison was nominated for 2023 Clown/Barrelman of the Year.
"We are proud of all our contract personnel. They absolutely deserve recognition for their dedication to their craft, and these year-end awards and WNFR positions speak for themselves. We continue to strive to hire the best in the business, they are instrumental in helping us produce a top-rate rodeo," said Sheridan WYO Rodeo President, Hayden Heaphy.