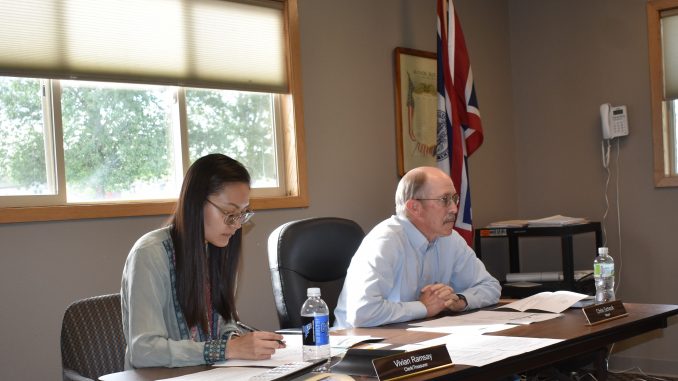 The Clearmont Town Council held their June meeting on the 20th at town hall. Dave Craft, of Dave Craft Farm Bureau Financial services, reviewed the current insurance policy with the council, suggesting that they up the coverage due to the current high constructionist costs should the town hall have to be replaced.
Mayor Chris Schock asked that Craft give them some new numbers reflecting the increase in coverage with an increased deduction to keep the premiums low. Craft said he would email the new numbers to the council.
Other items discussed were hiring a town maintenance man to replace John Keiser, who plans to retire. Wages will be based on experience and certifications, and anyone interested can contact the Clearmont Town Hall.
Schock and Councilwoman Anna Switzer had this exchange on the issue.
There were several upcoming projects that Shock said he is considering for the town; replacing the water line from the water tank to the highway, and replacing the water line on Water Street. He added that there is money available for these and other necessary infrastructure projects.
Schock read the resolution to continue the one-cent sales tax, and the council voted to continue the one-cent tax. The council voted to accept the bid of $2.42/gallon for 1300 gallons of propane from Big Horn Coop.
Schock told the council that the water tank needs more paint on the inside, but the company would do it and there would be no change to the town, "It's on their dime," he said. The water will not be turned off to complete the project.
He said that the repairs on water well #3 are delayed because one part that is needed has been back ordered until August 2, and when the part is received the water well will be repaired.
The council voted to approve the Mill Levy Ordinance and the Budget Ordinance.
The one visitor was Sheridan County Sheriff's Deputy Jim Arzy was at the meeting, so if the town had any issues to discuss with the Sheriff's office they could talk to him about them.
The next meeting will be on July 18.