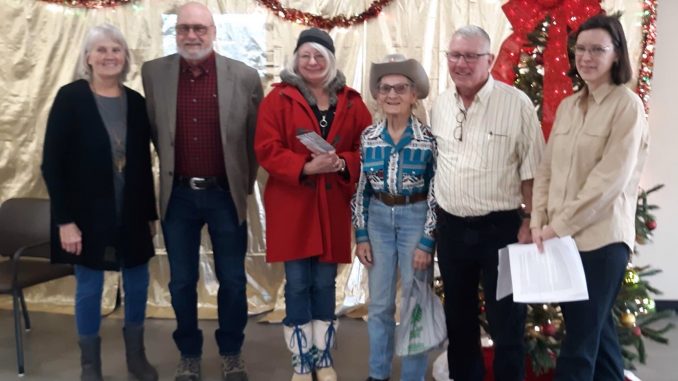 CHG members Sandy Hirz, Robert Prusak, Linda Burton, Fran Felz, Ira Roadifer, and Carrie Edinger. Photo courtesy Ira Roadifer
Twelve women were featured at the Sheridan County Land Trust and the Clearmont Historical Group Explore History: Women Who Influenced Southeastern Sheridan County at The Hub on Smith on Dec. 14.
Carrie Edinger, SCLT, opened the program with a little historic background on the Wyoming Suffrage Act of 1869, which was passed on Dec. 10.
The territory retained the law even when it jeopardized Wyoming Territory's application for statehood in 1890. Once Wyoming became a state, it was the first one to allow women citizens to vote, to own land, and to hold public office.
Many women, either single or with their husbands, came to Wyoming as a part of the homestead act of 1862, and took up 160 acres of 'free' land. There was a small 'filing fee' and then the homesteader only had to 'prove up' in five years to attain a deed for the property. Proving up meant that the homesteader had to plant trees, put up a frame and tar-paper shack, or even a dugout, to prove that they planned to live on the land.
Ira Roadifer, of the CHG, took the podium to tell the story of Sarah Pattengell and her daughter, Clarissa. The mother daughter team came to Wyoming when Clarissa married E.W. (Doc) Huson. Huson wanted to plot a town along the railroad, which was moving west. He plotted the now extinct town of Huson and built a fine rock house that was at one time a stage station. Clarissa, a pioneer wife, had a chicken flock that she gathered eggs and killed the chickens to cook and feed the travelers. The house still stands today.
Robert Prusak talked about Nellie Smith Rasmussen, who came to Clearmont from Shreveport, Louisiana.
In 1917 Nellie took over a relinquished homestead on Pinhead Creek, and proved up on it, living in a one room dugout with a sod roof. In 1919 she married Harry Rasmussen who worked for the Spear Cattle Company. They settled on Nellie's homestead and moved Harry's house and barn to the land. Later they bought a mail-order house for a thousand dollars. It was shipped via rail and hauled to their land by horse and wagon. In 1919 they traded 21 horses for a herd of cows that were old and wouldn't survive the winter in a big outfit. The next spring all the cows produced calves, and they had a cow herd. They sold milk, cream, butter and eggs in town.
Harry and Nellie didn't have electricity until 1951. They had a cistern that they filled with snow in the winter, and it kept cream and milk cool in the summer. Nellie cooked for years on a coal fired cook stove.
In 1952, Nellie and Harry turned the ranch over to their daughter, Shirley and her husband, Kenneth Bates, and moved to Clearmont. Nellie lived to be 102 years old.
Prusak also gave the history of Dr. Mary Ross Lamie, who came to the area in 1905 to practice as a physician. She was the only female physician in Sheridan County at that time. Lamie was born 1865 in Scotland. "She comes from a unique family," Prusack said. "Three sisters and one brother and they were all doctors."
She married Robert Lamie, who was also from Scotland. In 1919 they came to Clearmont and Mary set up her practice on Piney Street, delivery babies, treating minor injuries and major diseases, including the Spanish Flu. They owned seven lots in Clearmont. In 1923, she moved to Big Horn and passed away there in 1926 at 61 years old.
Edinger gave a brief history of Mae and her daughter Melva Cummings. In 1903, Mr. Cummings left his family taking all the money. Mae and Melva were broke. They mortgaged the land in Nebraska to get money. Mae's mother had moved to Sheridan, and invited Mae and Melva to come west and filed on a homestead east of Clearmont. Melva remembers how difficult it was to keep up the homestead. One way they paid for the upkeep on the homestead was buying and selling horses.
In 1919, Melva received a patent on her 320 acre homestead, but they still struggled for money. Mae's health began to fail, and she and Melva moved into Clearmont, where Mae ran a tourist camp. Melva hated to give up her horses and the ranch life, but she did it for her mother. Later, she married and wrote the memories of her homestead days in the book, Mom and Me.
Edinger continued the histories with the story of Teresa (Lily) Towmey Little. Teresa was born in County Cork Ireland. She remembered peddlers coming to her house peddling their wares. From Ireland she came to Philadelphia then moved Sheridan. Before her marriage she worked as a maid at the Wallop ranch, and later at Eaton's Dude Ranch, and made many friends including Mary Roberts Rhinehart, the author. Towmey was proving up on her homestead when she married Phil Sheridan Little. They farmed and ranched on Little's property.
Linda Burton gave the history of Grace Kennedy Foster. Grace's brother and wife had already established their homestead, and Grace came west to live with them.
Grace's first job to support the homestead she filed on was to cook for sheep shearers. Then she worked for Cora Lang at her boarding house in Clearmont for $25 per month. She helped with the cooking, cleaning and ironing. Later, she took a test to be a teacher. In November of 1915, she got a job at Monarch as a teacher. Grace continued to work as a teacher and other jobs. Horseback was her main transportation. In May 1918 she married John Foster, and they continued to ranch in the Clearmont area.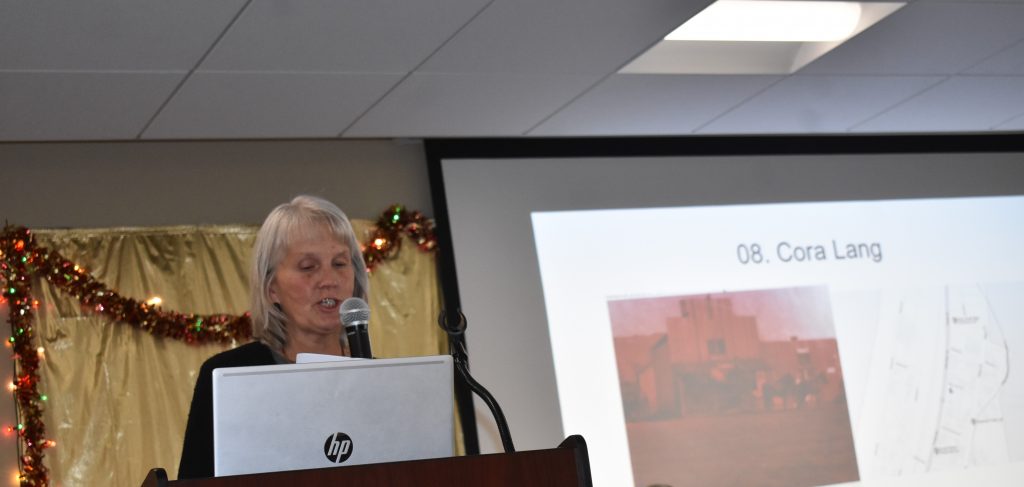 Sandy Hirz told the stories of Cora Lang and Mary Boyd Loafman. who both ran boarding houses in Clearmont.
In 1900, Lang and her husband Jake ran a mercantile in Clearmont. Jake took up a 120 acre homestead 1 ½ miles from Clearmont, Cora ran the mercantile and boarding house while he ran the homestead. They had four children but three died. Jake died in 1912, Cora took care of her children and managed the business and became a postmaster. When she died her remaining son, Lester inherited the homestead and lived in Clearmont his whole life.
Mary Boyd Loafman 1897 came to Clearmont, purchased a business and started a boarding house. Later, she purchased three lots next door and started the first hotel in Clearmont. In 1901 married her husband John, and they purchased several lots in Clearmont. John died in 1915, and all the assets, including 11 land tracks, were left to Mary. Mary moved to Sheridan and lived there until her death in 1952.
Fran Felz talked about Margaret Rutledge Landtrop, she was one of Sheridan County's earliest pioneers, but said little else is known about her. Felz also told a personal story of her farming years, both in Nebraska and in Wyoming, and talked about she and her husband, Ira living in Alaska, where they enjoyed hunting and fishing. They came back to the farm in the winter. At one time they raised registered Highland Cattle, Registered Paint Horses, and dogs.
These women were true pioneers. Many lived in sod shanties or tar paper homesteads, raised gardens and livestock, and carved homes and businesses out of the barren Wyoming plains.