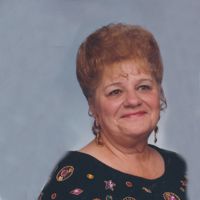 Arlene Susan Collins, age 87, passed away peacefully on Monday, April 5, 2021, at home surrounded by her family in Sheridan, Wyoming.

She was born February 23, 1934 in Evergreen, Illinois to Anna and Alex Van Dahm. Arlene truly lived life to the fullest through the love of her family and friends.
On June 10, 1950, she married the love of her life, Bill Collins, in Chicago, Illinois. They were married for 63 years and had 6 children, 5 sons and 1 daughter. The family grew even larger with the addition of 23 grandchildren, 57 great-grandchildren and 11 great-great-grandchildren which affectionately called her "GiGi".

She held various jobs, everything from a change girl in Reno, Nevada to waitressing in her parents' restaurant and eventually fulfilling over 25 years in the nursing field.
Some of her proudest moments were appearing in the movie "Crazy Mama" and taking the stage in South Pacific and The Wizard of Oz. She was always singing whether it was in the church choir or serenading her family.

Arlene portrayed love, light and positivity which flowed through her by her love for God. She will be greatly missed as she has put an imprint on all of our hearts.

If there is one thing she would want everyone to remember is "GIATI" God is all there is.
A graveside service for Arlene and Military Honors for her late husband Bill will be held on Saturday, April 10, 2021 at 10:00am in the Juniper Heights section of the Sheridan Municipal Cemetery. Father Glenn Whewell will be officiating.
Online condolences may be written at www.kanefuneral.com Kane Funeral Home has been entrusted with local arrangements.