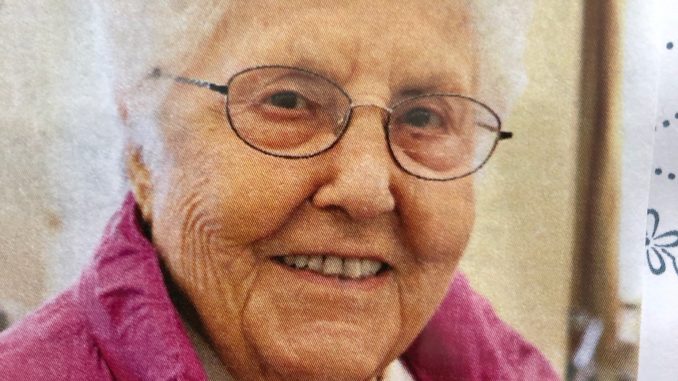 Lucy M. Salveson passed away at the age of 96 at Sheridan Memorial Hospital with her two daughters at her side.  She was born to Bartolomeo and Marta Rondono Destefano on February 10, 1924, in Sheridan, Wyoming.  She grew up attending Sheridan schools and graduated from Sheridan High School.  She married the love of her life, Hugh Walter Salveson, on November 11, 1950.  

Lucy was a stay at home Mom until her girls started school.  She then started work in an insurance company, and a few local doctors in the area before going to the VA Hospital where she worked for 20 years in the medical records department until she retired.  

Lucy and Walt enjoyed traveling around the United States with friends in their motor home.  They were also part of a local motor home group and traveled some with them.  They especially enjoyed camping in the mountains with their grandkids and family.  You would always find Lucy on the bank of a stream fishing which she thoroughly enjoyed. They were also members of the Jeans and Queens Square Dance club, where they met a lot of friends.  Lucy was always a member of the Catholic Women's group and volunteered often at the church library.

Lucy was preceded in death by her parents;  husband, Walt Salveson, and brothers Batista Destefano, Arthur Destefano, and John Destefano.  She is survived by daughters Nancy (Dennis) Nelson, and Marty (Steve) Harker and brother Alfred Destefano; Four grandchildren and 7 great-grandchildren as well as many nieces and nephews.  A Memorial Mass for Lucy M. Salveson, who passed away March 18, 2020, will be held Wednesday, June 24, 2020, at 10:00 am with Father Genn Whewell officiating at Holy Name Catholic Church.  It is mandated for everyone's safety to bring and wear a face mask, along with maintaining 6 feet of social distancing.  Donations may be made to Holy Name Catholic Church 260 E. Loucks St, Sheridan, WY, or donors choice.

Champions Funeral Home has been entrusted with local arrangements.