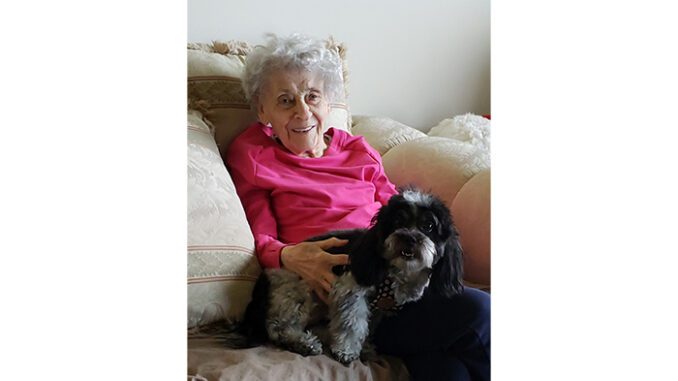 Willa Mae Tift, of Sheridan, passed away on Monday, September 19, 2022, at 90 years old.
Viewings will be on Tuesday, September 27, 2022, from 9:00a.m.-10:30a.m. at Sheridan Funeral Home in Sheridan and from 11:30a.m.-1:30p.m. at Harness Funeral Home (351 N. Adams Avenue) in Buffalo, WY.
A graveside service to honor Willa's life will be held at 2:00p.m. on the same day at Willow Grove Cemetery in Buffalo, WY with Pastor Doug Goodwin officiating.
Born in Bozeman, MT on February 5, 1932, Willa was raised under the love and nurturing of her mother Agnes Strange, grandmother Elsie Brown, and beloved Poppi, a.k.a. William Brown. Willa and her mom frequently visited relatives in Sheridan; there, Willa met her soulmate, Charles Tift, whom she married in 1950.
Willa was always a strong supporter of giving and volunteering whenever possible. Advocating for cancer sufferers was particularly important to her, as Willa battled (and conquered) cancer herself before suddenly losing her husband to pancreatic cancer in 1994 when he was only 67. After losing her husband at the age of 62, she moved back to Sheridan where she worked as a clerk at the Sheridan County Courthouse. Upon retirement, she dedicated herself to caring for others as a Senior Companion, which she humbly and enthusiastically did for over twenty years.
Willa has truly had a rewarding and wonderful life, and she will be missed by all who have had the honor of knowing her or simply chatting with her on her daily walks, which she diligently took as long as her health allowed.
She was predeceased by her mother, Agnes Strange, her husband, Charles Tift, and her daughter June Tift, all of whom were taken away too early in life.
Willa is survived by her son Charles Tift II (Yanette) of Sheridan and daughter Sondra Strong (Wayne) of Oregon, as well as grandchildren: Shaun Strong (Emilie) of McMinnville, OR; Jeff Strong (Ronda) of Hood River, OR; Mandy Lofdahl (Mark) of Newberg, OR; Katy Strong of Newberg, OR; Cameron Tift of Sheridan, WY; and Stefani ("Mal") Tift of Billings, MT. In addition, she is survived by six great-grandsons, three great-granddaughters, sisters Shelly Gaulya (Nick), Shirly Hagen (Rodger), cherished friends Dorothy and Virginia, and her loyal canine companion, Precious.
Memorial donations may be made to the American Cancer Society. Online condolences may be made to www.sheridanfuneral.com. Arrangements are under the care of Sheridan Funeral Home.