Brittney Denham-Whisonant poses with son Hayes Whisonant by her artwork.
The American Memory: Inside Out, exhibit reception on Friday drew around 50 people from throughout the three county area. It was the first in-person reception at the Ucross Foundation Art Gallery since 2019. "We had a great turn-out," Tracy Kikut, Ucross Foundation Program Director said. about the reception. "We thank everyone for coming out and seeing the great artwork on display."
On display were art works from Monica J. Brown of Chicago; Bill Will of Portland, and Sheridan's own Brittney Denham-Whisonant, all who had been residents at the Ucross Foundation this past spring. Although Will and Brown could not make the reception, Denham-Whisonant attended and gave a talk about her exhibits.
Denham-Whisonant has an MFA in Photography, (she is Assistant Professor of Photography and Printmaking at Sheridan College) and she became interested in quilting about four years ago.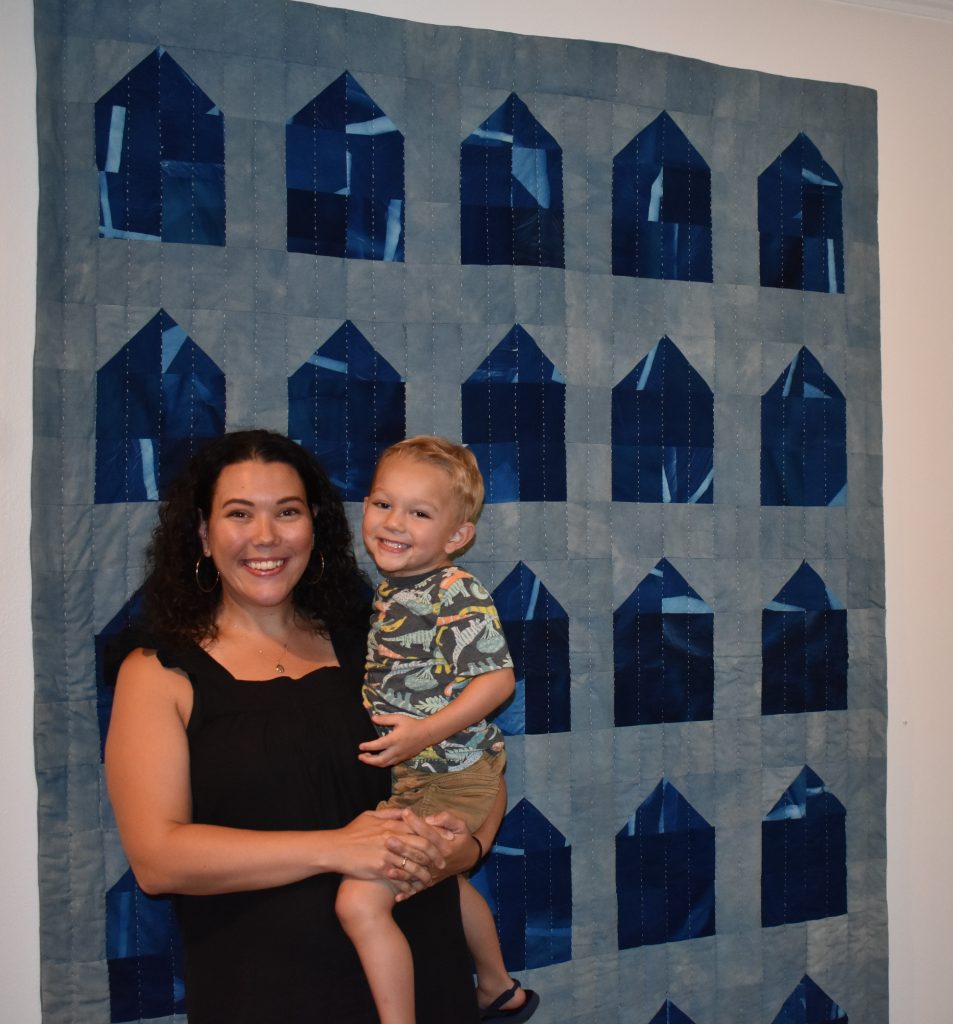 "I went down to the Quilter's Fix here in Sheridan, and I asked if they had classes. They didn't, but they invited me to bring my sewing machine and they would teach me. They walked me through how to quilt using a machine. You don't often see this passing down of tradition without some type of fee. They didn't charge me, it was just a group of women who taught me this amazing craft.
"Due to my degree in photography, a lot of what you're seeing is an alternate process called Cyanotype, a photography process on fabric, invented by Sir John Herschel, in 1842. I've done that for about 15 years." Denham-Whisonant said.
"I source my indigo from a place called Botanical Colors, a great resource, and they send me plant extracts, I make the mother and create vats from that. All the artworks are hand quilted. A lot of this came about after I had my child and I wanted more natural materials so I wouldn't have the worry of chemicals. This allows me to be safer. A lot of what's out there I can do with my child."
The theme of the exhibit is American Memory: Inside Out, and when asked about how her quilts fit into the theme, Denham-Whisonant had this to say:
When asked if she still does photography, she said, "One of my art pieces on display here, was done during the pandemic. It is titled, Ode to Bernd and Hilla Becher with Child. Bernd and Hilla Becher's photos were of water towers, and other industrial structures and they are very structured.
"I was with my son, and I was going stir crazy. I can't just not work, I can't just not make art. It was still snowing, so we couldn't really go outside and dye fabric, so I was feeding him the same way on this little blue mat and I took photos of that everyday. And that is what that piece of art is about. But my work now is mainly centered around textiles."
Denham-Whisonant, had this to say about her stay at the Ucross Foundation.
She said that she is very appreciative of the Ucross Foundation for giving her the opportunity to come and work. "I didn't want to waste a minute of the time that I was being gifted. I was being nourished, I was being taken care of. I will be forever grateful for being here." she added.