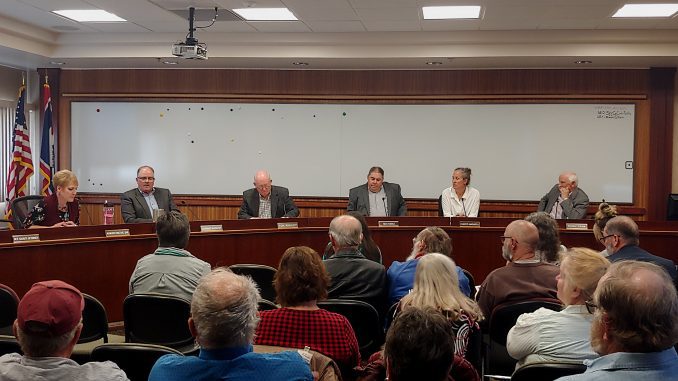 At their regular meeting Tuesday morning, the Sheridan County Commission considered and then approved a re-zone request from Susan Lewis and Janet Shober.
The roughly 73-acre property, located just east of Sheridan off Highway 14 and East Ridge Road, is currently zoned as (A) Agricultural, and the owners wish to change to (RR) Rural Residential.
Although no formal plans have been submitted to the county yet, the purpose of the re-zone is to enable the development of a conservation design subdivision.
Todd Grieg, representing the petitioners in the re-zone, spoke to the commission, explaining why he thought the property is a good choice for development.
A number of neighbors and residents in the area of the property spoke to the commission, saying they were against the re-zone and the subdivision that is expected to be developed if the re-zone is approved, citing light noise, runoff problems, loss of agricultural land, and other concerns for reasons to oppose it.
The commission, after consideration, said any concerns raised would be addressed in the subdivision process if the landowners choose to develop it, and numerous public meetings would be needed before the subdivision could be approved in the future.
But as of Tuesday's meeting, all the commission was considering was a re-zone of the property, which they approved on a unanimous vote.