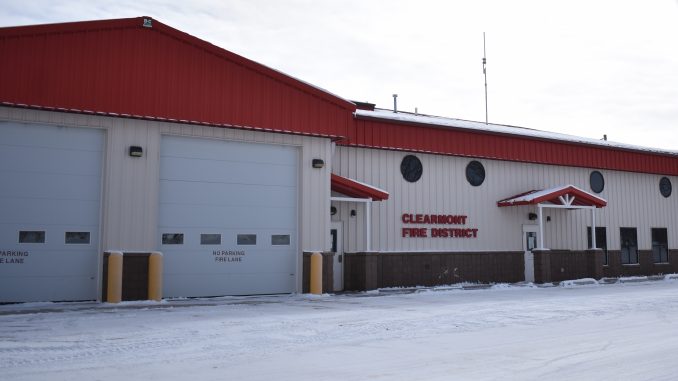 The Clearmont Fire District held its monthly meeting on Feb. 9, at the Fire Hall in Clearmont.
Topics for discussion included the new fire District shop building, which is to be built on Front Street, between the Clearmont Historical Center building and the Veteran's Memorial site.
The shop is still very much in the planning stages, and Cole Benton and Ken Aitchison, mechanic, will began the research on what type of building to put up on the site. Brent Winter, mentioned that the Wyarno Building had been constructed by Morton Buildings, and they did the preliminary work as well a putting up the building. Benton and Aitchison will research metal buildings and companies and find out the best way to proceed.
Fire Chief Arty Thomas reported that the group is still working with Montana on a mutual aid agreement for fires that cross the state lines. He said that fires often burn on both sides of the line, especially in the back country, and we all need to work together and make sure to get the frequencies to work together.
He also mentioned that the District should check into putting up Porta Potties near fires that last more than 3 days, especially since there are some women working on some fire crews.
The Clearmont Fire District, made up largely of volunteers, and is the largest fire district in Sheridan County, covering the area between Wyarno and Arvada, north to the Montana line, and south to the Johnson County line. There are four fire stations, Clearmont, Wyarno, Ucross and Arvada.