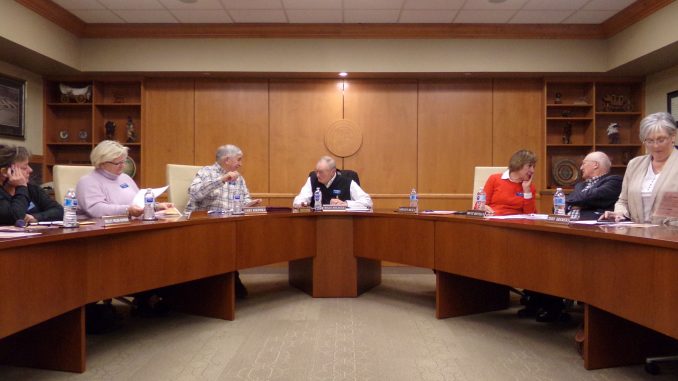 Despite pleas from nearly 50 people from Gillette, Sheridan and Buffalo, Northern Wyoming Community College District trustees retained cuts in the college district's athletic programs as they adopted a budget for the new year Wednesday night.
Speakers during the public hearing that preceded adoption of the budget included three Wyoming legislators, students and former students of the colleges and coaches like Ryan Davis, head women's basketball coach at Sheridan College, who said his thoughts aligned with the words of a former head coach at the college.
College District President Dr. Walter Tribley said suspension of Division 1 athletics at Sheridan and Gillette colleges was just one of several actions taken to balance the budget for the year that started on July 1. The district also reduced rodeo team expenditures, and those two cuts together eliminated $2.8 million from the budget.
Tribley said the district lost a total estimated $4 million for the year ahead, including an estimated 10 percent loss of state funds, about $1.5 million, and loss of another $1 million from housing and food service auxiliaries.
Other revenue losses this year include an estimated $500,000 shortfall in health insurance reimbursement. Tribley said the district also faces reduction in BOCHES operational funding in Campbell and Johnson counties and an estimated 20 percent decrease, about $800,000, in tuition and fees.
Tribley said the district also is looking at increased costs to conduct COVID-19-safe operations, and that amount is unknown.
Dave Horning, president of the Gillette College Foundation, appeared before college district trustees with a proposal for the foundation to fund athletic programs at the Gillette College, but trustees took no action on that. Sheridan Media will have more on that in another story.