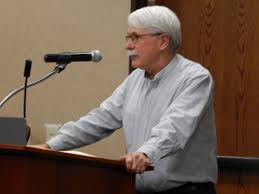 A pipeline that will bring natural gas to the Tongue River Valley could be substantially complete by January 2021.
Peter Clark, who's mayor of Ranchester and chairman of the Tongue River Valley Joint Powers Board, said work on the pipeline started around April 1.
Contractor for the $5.7 million project is DRM out of Gillette.
Clark said under the current arrangement, the natural gas will be transported via Montana Dakota Utilities' Williston Basin pipeline to connect with the Tongue River Valley system on West Fifth Street in Sheridan. Clark said some of that connection is still being negotiated.
The Tongue River Valley includes the towns of Dayton and Ranchester. The Tongue River Valley Joint Powers Board includes representatives of the two towns and Sheridan County School District 1, which owns three schools in the towns – Tongue River Elementary and Tongue River Middle School in Ranchester and Tongue River High School in Dayton.
Clark said the two towns have around 480 deposits for natural gas hookups at this time. He said the joint powers board has been working on this project for a little over six and a half years.