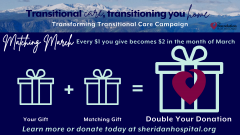 A community gift supporting Sheridan Memorial Hospital's Transitional Care Unit expansion project means that a 100 percent match will be made for all gifts made for the project this month.
Richard Garber, who's president of the Memorial Hospital Foundation Board and co-chairman of the expansion campaign, announced the "extremely generous" gift, saying any size donation to the project made this month will be doubled.
He said the matching gift could not have come at a more important moment, adding the expansion not only fills the growing need to care for individuals after a hospital stay but will help ensure their safe and successful return home.
Garber said another positive of the expansion project is that it repurposes the original 1954 hospital building back to patient care.
The Transitional Care Unit expansion will provide an additional 15,600 square feet of patient-care area on the hospital's second and third floors. The plan includes 20 private patient suites, a private group dining area, family meeting and consultation room and rehab space overlooking the Bighorn Mountains.
Cody Sinclair, who as chief development officer oversees the Foundation's efforts, said everyone on the hospital team involved in the planning is confident that the new area will enhance patients' care experiences, overall results and the goal of helping patients successfully transition back home.
The Foundation's goal is to raise $4.4 million for the expansion project.