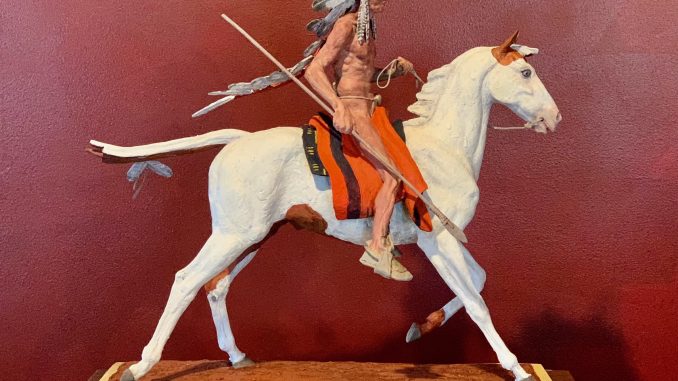 "The Indian's Pony," a limited edition painted bronze by Wyoming artist Gerald Anthony Shippen, will be on exhibit this month at The Brinton Museum at Big Horn, and copies of the bronze will be for sale in the museum store.
Also available for sale will be copies of Shippen's recently released book, "From Bones to Bronze, The Indian's Pony," which details the inspiration behind the work and the process of sculpting the piece.
Barbara McNab, who's the Brinton's curator of exhibitions and education, said the bronze will be displayed in or near the store from Dec. 16 through Dec. 23.
Shippen's 74-page color-illustrated book leads the reader through the artistic experience starting with his appreciation of the 32,000-year-old horse figures drawn on the walls of Chauvet Cave in the Ardeche valley of southern France.
Now a resident of Cody, Shippen grew up in northwest Wyoming and earned a master of fine arts from the University of Wyoming. His art is represented in numerous private and public collections in the U.S. and abroad.
Other pieces of his at the Brinton included "Sentinel of the Plains," commissioned in 2015 by Forrest and Jacomien Mars and a bronze grouping, "Wild Turkeys," as well as another painted bronze, "Birds of a Feather," gifted by the Wallick Family Foundation and on permanent exhibit in the lobby entrance.