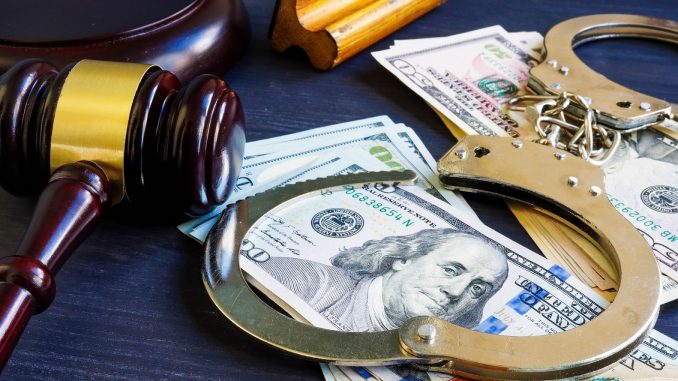 A 38-year-old man who attempted to escape detention after being sentenced in Sheridan County Circuit Court in March was sentenced Thursday in 4th Judicial District Court. Sheridan Media's Ron Richter has the details.
On March 28, Michael Tabor was sentenced in Sheridan County Circuit Court to 45 days in the Sheridan County Detention Center for three counts of misdemeanor theft. When Circuit Court Judge Shelley Cundiff ordered Tabor to surrender to Sheriff's Deputy of Court Steve Matheson, Tabor ran and attempted to leave the courthouse. Matheson deployed his impact baton and struck Tabor on the right leg. Tabor continued to resist and attempted to make his way down the main stairs of the courthouse. Matheson then deployed his taser and was able to handcuff Tabor and detain him until additional law enforcement arrived on scene. Tabor was arrested and charged with felony escape from official detention.

Tabor was sentenced for the crime Thursday in Fourth Judicial District Court in Sheridan. Sheridan County Attorney Dianna Bennett withdrew from the plea agreement that was made between the State and Tabor and recommended the Court deviate from the agreement when imposing the sentence. Bennett stated to the Court that the reason for withdrawing from the plea agreement was because Tabor has been convicted of two crimes, battery and property destruction, that he committed while incarcerated in the Sheridan County Detention Center for the escape charge. District Court Judge Darci Phillips acknowledged the State's withdrawal from the plea agreement and modified the sentence to 18 to 36 months in prison, suspended in lieu of a split-sentence of 280 days in jail to be followed by two years of supervised probation. Tabor was given credit for 220 days of time served, meaning he will be incarcerated for another two months before he is released from jail. Judge Phillips ordered Tabor to pay $325 in court costs and $500 in attorney fees.