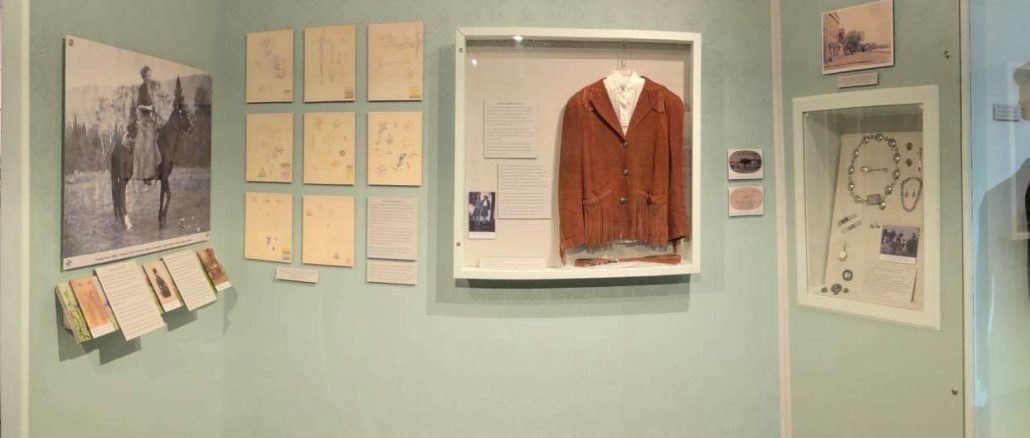 The Jim Gatchell Museum in Buffalo has opened an exhibit showcasing the designer of Wyoming's state flag.
Verna Keays Keyes was a Buffalo, Wyoming native. Keyes demonstrated an interest and talent in art and attended the Art Institute of Chicago for a three-year course in interior decorating and design and returned to Buffalo in 1916.
When her father, Billy Keays, learned the Daughters of the American Revolution were sponsoring a contest for the design of the Wyoming state flag, he encouraged his daughter to submit an entry.
After procrastinating for months, Keyes finally entered the contest. Her design was chosen as the winner and she was awarded a prize of $20. Although the flag underwent a slight change – the buffalo was reversed to face the flagpole – Keyes' design is still the Wyoming state flag.
While appearing on Sheridan Media's Public Pulse, Jim Gatchell Museum director Sylvia Bruner told listeners Keyes' parents played a large role in shaping her adventurous life.
Verna played an active role in the community; performing in area plays, raising funds for the purchase of an ambulance, working as assistant postmistress, playing the organ, instructing students in art, and even working as a librarian in 1919 in the building that is now the Jim Gatchell Museum's entrance.
The Jim Gatchell Museum is open Monday – Saturday, 9 a.m. to 5 p.m. and Sunday 12 p.m. to 5 p.m.