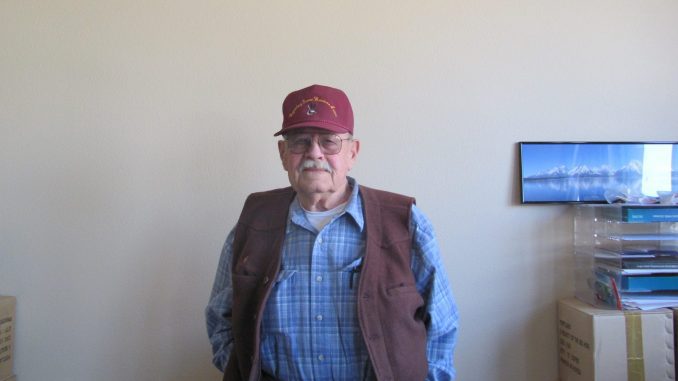 Private family interment of for Bill Backer 83 year old Buffalo resident who passed away January 1st at the Amie Holt Care Center in Buffalo will be held by his family at a later date. Donations in Bills memory may be made to the charity of your choice in care of the Harness Funeral Home at 351 N. Adams in Buffalo. Online condolences to the family may be made at www.harnessfuneralhome.com
William Ralph Backer was born on October 17, 1937 in Edgerton, Wyoming to John and Opal Backer. He grew up in Midwest, Wyoming where he attended schools and graduated from Midwest High School with the class of 1955. After high school he attended Casper College for a short time. He was married in 1959 to Penny Pierson and they had one daughter, Heather, born in 1960. They later divorced and Bill married Barbara Harvey from Story, Wyoming. In 1973 he married Nancy Lamb and they raised Nancy's daughter Lisa.
When Bill was about 10 years old he began spending the first of three summers at his uncles ranch near the small town of Manderson, South Dakota on the Pine Ridge Indian Reservation where he learned to handle horses. With his dog "Tippy" Bill drove eighty head of cattle by horseback to water every day. When that chore was finished, he wrangled the ranch horses. There was no mechanized equipment on the ranch. All work including haying was done with horses. Between his Junior and Senior years in high school Bill wrangled horses and took guests on trail rides and overnight fishing trips into the Big Horn Mountains from South Fork Inn West of Buffalo. After his time at Casper College Bill went to work for Pan American Petroleum and Transportation Co. in Midwest. In October of 1962 Bill began working for the Wyoming Game and Fish Department in Kaycee, Wyoming as a Special Deputy for Game Warden Dan Stallings, working law enforcement during hunting season. After hunting season Bill transferred to Sheridan, Wyoming, working game damage control and law enforcement in Game Division District #3. In 1965 Bill transferred from Sheridan to the Saratoga Warden District, living in McFadden and Elk Mountain, working game control and law enforcement during the fall and winter for two years. During the summer months he was assigned to the department's Como Bluff Fish Hatchery near Rock River, Wyoming. Following these assignments Bill attended the Wyoming Law Enforcement Academy in Douglas, Wyoming and began duties in Moorcroft, Wyoming. While he was the Moorcroft Game Warden, Bill was a member of the Game and Fish Pistol Team and attended shoots in and out of state. He served in Moorcroft until 1971 when he transferred as Game Warden to Kaycee, Wyoming where he served until his medical retirement in 1980. After retirement he settled in Kaycee.
Bill enjoyed cutting and polishing rock, hunting arrow heads and photography. He is survived by two daughters, Heathers Pebbles and her husband Billy of Thermopolis, Wyoming and Lisa James and her husband Tom of Charlotte, North Carolina. One sister Shirley Harper and her husband Bill of Sheridan; one nephew David Harper and his wife Sarah also of Sheridan; grandchildren Tyler Slegle and Ryan Pebbles and Tiffaney and Amber James; six great grandchildren, and several nieces and nephews. He was preceded in death by his wife Nancy Backer, his parents and one niece Susan Andrews.