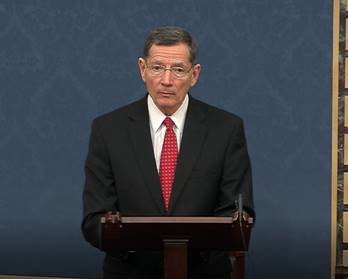 America's Water Infrastructure Act 2020 passed the Senate Environment and Public Works Committee by a vote of 21 to 0 in May of 2020.
The bipartisan legislation provides approximately $17 billion in new federal authorizations to invest in U.S. infrastructure for projects across the country. The Drinking Water Infrastructure Act of 2020 reauthorizes Safe Drinking Water Act programs that support drinking water infrastructure and provide resources and technical assistance to communities facing critical drinking water needs.
Wyoming Sen. John Barrasso, the EPW Committee Chairman, sponsors the bill along with U.S. Senator Tom Carper (D-Del.), the top Democrat on the EPW Committee. 
According to an EPW fact-sheet, the bill cuts red tape by setting a two year goal for the U.S. Army Corps of Engineers to complete feasibility studies for potential projects, consistent with the standard set by President Donald Trump. 
The bill will increase water storage in the West and build new flood management infrastructure in the Midwest. The bill will also fix aging dams and irrigation systems, and upgrade wastewater systems across the country, including those of Native American tribes.
The bill also contains a number of sections to fight invasive species through financial and technical assistance, research, innovation, and partnerships between the federal government and other entities.
The work on the bill has been done, Barasso said. The Senate approved the bill in a vote of 99-1 in October. According to the Associated Press, The House approved the bill in September on a voice vote. If signed by President Trump, the bill would authorize more than $6 billion in spending over 10 years for projects nationwide.