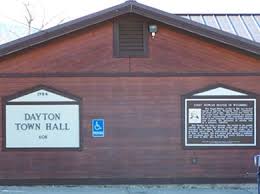 Dayton Mayor Norm Anderson recently expressed his thanks to Sheridan County voters for passing the capital facilities tax again this year.
Anderson said support for the tax was overwhelming.
The capital facilities tax is tied to specific amounts of money that's used by Sheridan County, the city of Sheridan and the towns of Dayton, Clearmont and Ranchester to finance capital improvement projects.
In Dayton, for example, Anderson said the town has a $3 million project to upgrade the wastewater lagoon, and the cost to the town has been $600,000.
Anderson said in accordance with Governor Mark Gordon's recommendation, Dayton has reduced its budget by about $200,000.
Speaking during the recent Sheridan County Chamber of Commerce legislative forum, Anderson told the Sheridan and Johnson county legislators attending that he would like to see the State Loan and Investment Board fully funded.
He said he understands the budget issues, but SLIB needs to have funds available for communities that need financial help. Anderson said he thinks that's critical for Wyoming's small communities.
The Dayton mayor said he also thought that a suggestion by Senator Dave Kinskey, to form an association of the state's small communities, should be pursued.