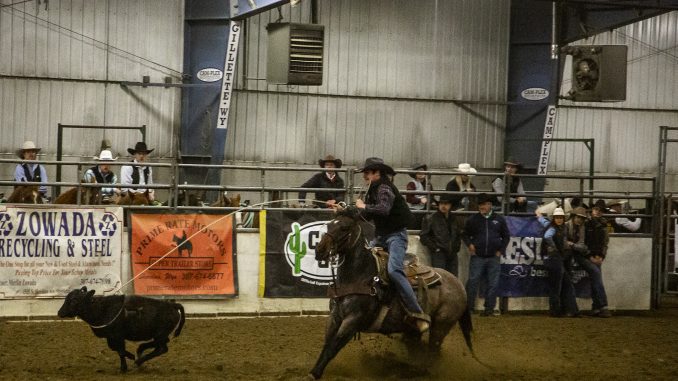 The 11th annual Sheridan College Rodeo Banquet will be held on April 10 at the Golden Dome on the Sheridan College campus.
Doors will open at 5:30 p.m., with dinner starting at 6:30 p.m. Tickets are $60 per person and can be purchased through the Sheridan College Foundation.
Proceeds from the banquet, which includes live and silent auctions as well as entertainment by The Munsick Brothers, benefit the Sheridan College rodeo program and help provide scholarships for rodeo athletes.
The live auction features unique items and experiences, including an Aussie male toy puppy, a fishing trip on private water in Montana and several hunts, including a pheasant hunt in South Dakota, a buffalo hunt, an elk hunt at the NX Bar Ranch just outside Sheridan and a mule deer hunt at the foot of the Crazy Mountains in Montana.
Items in this year's silent auction include jewelry, accessories, wine racks, a set of corn hole boards, stud fees, riding spurs, a fire pit, custom furniture and artwork and baskets from local and out-of-state businesses.
Tickets to the banquet may be purchased by calling the Sheridan College Foundation at (307) 675-0702. Those wanting more information about attending or sponsoring the banquet can call Sheridan College Rodeo Coach Marc Gilkerson at 675-0615.