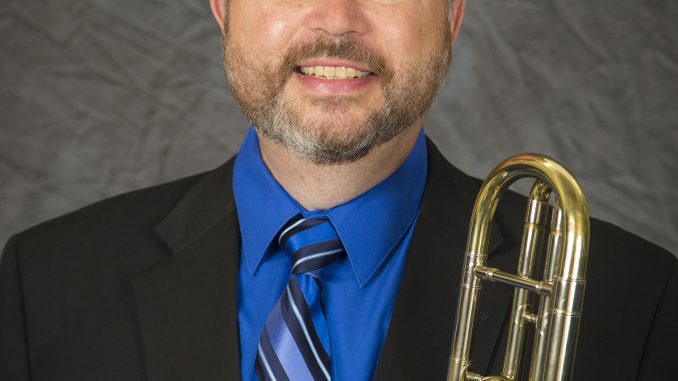 Dr. Eric Richards, director of bands and jazz studies at Sheridan College, will present a lecture titled "The Craft of Creativity" this Thursday, Feb. 20 at 7 p.m. in Whitney Academic Center room 153. This event is free and open to the public and refreshments will be provided following the lecture.
Richards will discuss the realities and demands of the creative professional workplace and how these parameters can both align and differ with the typical training received by music students and young professionals. This presentation includes musical selections to enhance the understanding of classical composition, transcription and arranging; jazz composition and arranging of vernacular (popular) music.
A native of Pittsburgh, Richards serves as the director of bands and jazz studies at Sheridan College where he is music director of the Symphony Band, Brass Ensembles, Jazz Ensemble, Jazztet (student jazz combo) and the professional Whitney Center Jazz Orchestra. He teaches Applied Brass, Composition, Music Fundamentals, History of Jazz, and leads program initiatives in recruiting, outreach and curriculum development.
Richards previously served as tenured Associate Professor of Composition and Jazz Studies in the Glenn Korff School of Music at the University of Nebraska-Lincoln. He is the recipient of the 2012 Distinguished Teaching Award in the Hixson-Lied College of Fine and Performing Arts at UNL. From 1984 – 2004. He also served as composer/arranger with The United States Army Field Band, the Army's premiere touring musical organization based near Washington D.C.
The Faculty Lecture Series is hosted by the Sheridan College Foundation and funded by the Thickman Lecture Endowment. Sheridan College is located at 1 Whitney Way in Sheridan. For more information about this or upcoming lectures, contact the Sheridan College Foundation at 307-675-0700.