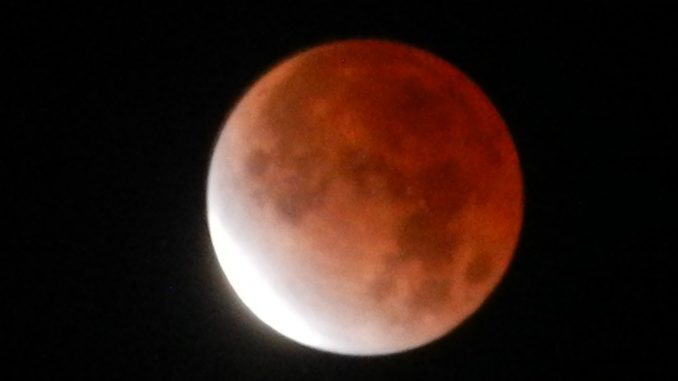 The clouds may have spoiled part of the show, but the skies cleared in time in the Sheridan area for many to see the peak of a celestial event.
A partial lunar eclipse happened overnight Thursday into Friday (November 18-19), as the earth passed between the sun and moon.
As a result, the earth cast a shadow on the moon, and turned it into a red-like color.
The alignment between the sun, earth and moon was off a little bit, so about 97% of the moon was eclipsed at about 2:02am Friday, according to astronomers.
The moon entered the earth's umbra, or the darkest part of the shadow, at about 12:18am, but cloud cover made it difficult at times to see what was going on.
A lunar eclipse tends to happen about two or three times a year, and is more common than a solar eclipse, because the earth casts a much bigger shadow on to the moon, compared to the moon casting its shadow on to the earth.
The next lunar eclipse is anticipated to happen May 15-16, 2022.
As part of a joke, football fans called the November 2021 event, the Super Bowl 51 eclipse.
That was the game in February 2017, when the New England Patriots trailed the Atlanta Falcons in the 3rd quarter by a score of 3-28, before pulling off the biggest comeback in Super Bowl history and won 34-28 in overtime.
The amount of time the moon was in the Earth's umbra for the November 2021 eclipse, was approximately 3 hours and 28 minutes (12:18-3:46am).
It just so happens the Patriots and the Falcons played each other in the Thursday night football game before the November 2021 lunar eclipse, with New England winning 25-0.