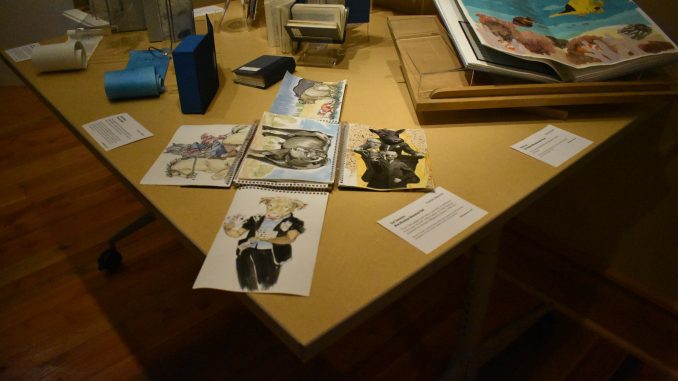 "Narratives of the Possible: Artists' Books," is a temporary exhibition being held at the Raymond Plank Center at Ucross.
This is the first book art show to be presented at Ucross. The exhibit travels from the Laramie County Library System in Cheyenne. Former Ucross artist-in-residence, Mark E. Ritchie, professor of printmaking at the University of Wyoming, curated the mixed-media exhibition, which includes work by 20 artists.

"As you explore the pieces in the exhibit, I urge you to consider what makes a book," Ritchie writes in his introduction to the exhibit, "Is it the physical object or the narrative it contains?"
DeeAnne Simonson, and Vicki Windle, both retired teachers from Casper and long time friends, took advantage of the warm weather on Oct. 18 to come to Ucross to see the exhibit.
"I like the idea that books are not just narrative," Simonson said. "Books are art and art is stories. I like the way these artists display the different ways they preceive books. A story isn't necessarily words."
Windle added this about the exhibit, "I'm a retired teacher, and now I'm an artist and poet. This exhibit is highly professional. It is amazing. I dabble in handmade books, and I enjoy seeing what directions one can take when doing books."
The exhibition presents books in classic presentation, as well as scrolls, accordion structures and other artful interpretations and deconstructions of the traditional book as an object. Visitors can also explore audio recordings, flip through colorful collaged pages and create their own narratives by arranging film negatives on a light board.
"We are delighted to share these unique creations with our greater community," says Sharon Dynak, President and Executive Director of Ucross. "This surprising and thought-provoking exhibition is unlike anything Ucross has featured in the past. We are honored to be part of this statewide project."
In addition to Ritchie, contributing artists include Alicia Bailey of Colorado, Aleta Braun of New Mexico, Katie Christensen of Wyoming, Kayla Clark of Wyoming, Casey Gardner of California, Marine Lahaix of France, Joseph Lappie of Iowa, Maria Lee of Arizona, Lisa Lofgren of Illinois, Toni Mosley of New Zealand, Val Pexton of Wyoming, Marnie Powers-Torrey of Utah, Andrea Przygonski of Australia, Mark Ritchie of Wyoming, Nick Satinover of Tennessee, Marc Snyder of Pennsylvania, Sue Sommers of Wyoming, Louise Taylor of the United Kingdom, Cerese Vaden of Arizona and Ian van Coller of Montana.
"Narratives of the Possible: Artists' Books" is open Monday through Friday by appointment only, with free admission, through Oct. 27. The exhibition is located in the Raymond Plank Center, a community space situated at the intersection of Highways 14 and 16 East in Ucross. To schedule an appointment, contact Caitlin Addlesperger | caddlesperger@ucross.org | 307-737-2291