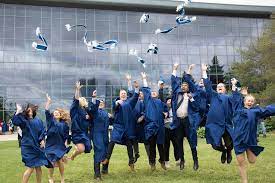 Graduation ceremonies for students of the Northern Wyoming Community College District will be in-person this year.
Dr. Walt Tribley, president of the college district, said ceremonies at Gillette College will be at 7 p.m. Friday, April 30, and at Sheridan College at 1 p.m. Saturday, May 1. In Sheridan, the ceremonies will be in the campus's Golden Dome, Tribley said.
Ceremonies at Gillette College will be in the Pronghorn Center.
Public graduation ceremonies at both colleges were canceled last year because of the COVID-19 shutdown.
Jen Crouse, Sheridan College's vice president of student services, will be speaker at the Sheridan College ceremonies.
Dr. Tribley said between 250 and 260 students will graduate from Sheridan College this year. He said around 150 to 160 students will graduate from Gillette College.