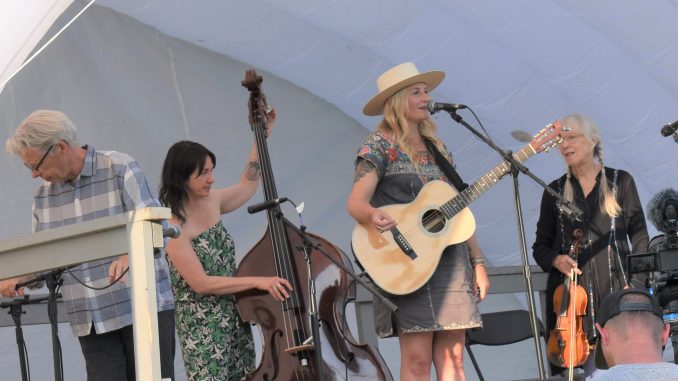 Darol Anger, Sharon Gilchrist, Sarah Sample and Lauri Lewis warming up on stage
Bluegrass music, a warm, sunny day drew a large crowd on Sunday's Music in the Park at Ucross, a part of the Sheridan County's Celebrate the Arts festival. Sharon Dynak, president and executive director of the Foundation, said that around 300 people attended the concert. Tracey Kirut, program director, felt is was a good "bookend to our Christmas celebration coming up in December."
The featured musicians were Grammy Award-winning musician Laurie Lewis, internationally renowned as a singer, songwriter, fiddler, bandleader, producer and educator. Lewis has been fellow at the Ucross Foundation four times. She had this to say about the Ucross Foundation.
She performed many of the songs she wrote while at the Ucross Foundation, including one "I Wish I Were a Sailing Boat."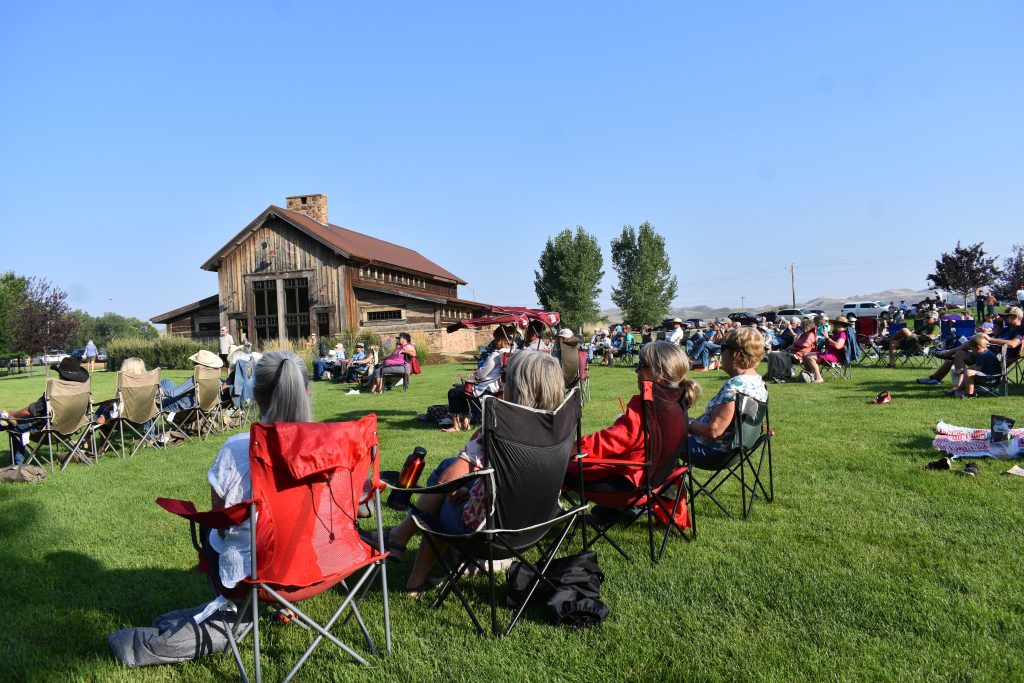 One of her songs titled Barstow, is a ballad about a woman who is stranded in Barstow, California, andkeeps planning to leave, but winds up living there. She gets a job, raises a daughter, and when the daughter leaves Barstow, the song writer says she can always come home.
Lewis lives in Berkeley, California.
Fiddler, composer, producer and educator Darol Anger is at home in a number of musical genres, some of which he helped to invent.
Although he has never been a fellow at Ucross, he hopes to come someday when he has time.
Sharon Gilchrist has long made her home in the American traditional acoustic music scene. Gilchrist has performed with Darol Anger, and Laurie Lewis many times. She plays the mandolin and upright bass.
Sarah Sample now lives in Sheridan, Wyoming, and was the follow-up act to Lewis, Anger and Gilchrist. She sang many of her own songs, like the following that she wrote about the redwing blackbirds.
She said that last year had been hard on everyone, and she sang the Beatles song, "Let it Be" for everyone who had a hard time during the pandemic. As a finale, all the musicians came on stage and performed several songs as well as the old standard, "I'll Fly Away,"
Preceding the concert was an art giveaway, and Tracey Kikut, program director said that around 150 pieces of art found new homes. "Art is to be enjoyed. When art is stored in a closet, I feel it does a disservice to the artist. I was glad to see so many youngsters who took home art to hang on their walls. So many people were grateful and found art that spoke to them. It was great. Thanks to everyone who came out and enjoyed the music and the artwork."