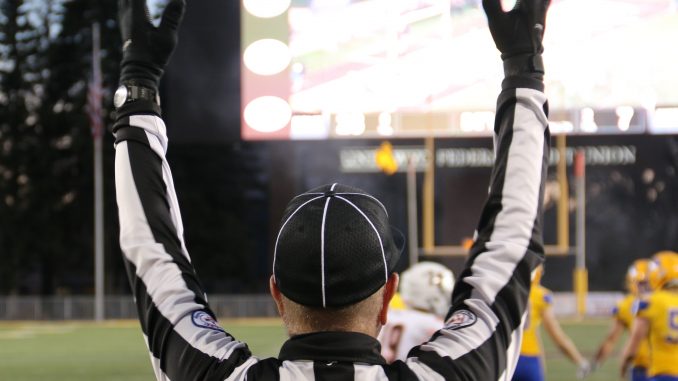 Coaches and members of the Wyoming Coaches Association have voted on which players they believe are in the best in the state within the conference their team plays in.
Click here to see the 2021 Sheridan/Johnson High School Football All-State Selections.
Sheridan: Although there are no conferences in 4A, they were created for post-season recognition.
The 4A East is Sheridan, Laramie, Cheyenne East, Kelly Walsh and Thunder Basin
Michael Greer – 1st Team Tight End, 1st Team Linebacker and 1st Team Kicking Specialist
Dominic Kaszas – 1st Team Wide Receiver,1st Team Defensive Back and Honorable Mention Kick/Punt Return Specialist
Carter McComb – 2nd Team Wide Receiver, 1st Team Defensive Back and 1st Team Kick/Punt Return Specialist
Caden Steel – 2nd Team Defensive Lineman
Dane Steel – 2nd Team Wide Receiver and Honorable Mention Defensive Back
Mathew Ketner – Honorable Mention Wide Receiver and 2nd Team Defensive Back
Rudy Osborne – Honorable Mention Wide Receiver and Honorable Mention Defensive Back
Cody Kilpatrick – Honorable Mention Wide Receiver and Honorable Mention Defensive Back
Chris Larson – 1st Team Offensive and Defensive Lineman
Ezra Eckland – 1st Team Offensive Lineman and 1st Team Linebacker
Tyler Ormseth – 1st Team Offensive Lineman
Jim Strobbe – 2nd Team Offensive Lineman and 2nd Team Defensive Lineman
Matt Ingalls – Honorable Mention Offensive Lineman
Bridger Baker – Honorable Mention Offensive Lineman and 2nd Team Defensive Lineman
Dylan Bennett – Honorable Mention Offensive Lineman
Carl Askins – 2nd Team Quarterback
Colson Coon – 1st Team Running Back, 1st Team Linebacker and 2nd Team Punter
Texas Tanner – 2nd Team Running Back and 1st Team Defensive Lineman
Carter McComb – 1st Team At-Large Offense
Rich Hall – 2nd Team Linebacker
4A East Offensive Player of the Year: Colson Coon
4A East Defensive Player of the Year: Michael Greer
4A East Coach of the Year: Jeff Mowry
Big Horn:
Wyatt Brown
Cade Butler
Kiefer Dunham
Cooper Garber
Josh Thompson
Jax Zimmer
Tongue River:
Travis Aksamit
Eli Cummins
Jacob Knoblach
Garrett Ostler
Cache Van Tassell
Buffalo:
Ben Camino – Running Back
Blake Bell – Wide Receiver
Aiden O'Neil – Offensive Lineman
Charlie Wonka – Defensive Lineman
Eli Patterson – Linebacker
Dawson Palser – Linebacker
Michael Ihnat – Defensive Back
Kaycee:
Coy Burnell
Harley Davis
Vaun Pierson
Samuel Ramsbottom