The history of sourdough dates back thousands of years and was a common part of Wyoming's frontier cuisine. This brief story about making sourdough bread appeared in Kemmerer Republican Newspaper on April 14, 1916. Leaving in the misspellings adds to the 'flavor' of the story.
This is from a much longer column. "O, yes, I was agoin to tell you all how to make sour dough bread in my last letter. Well here's the secret take a pan or pale and put about a pint of purty warm water in it and stir wheat flour in with a little salt added and beet her up till its purty thick batter, put it nigh to the stove where it will keep an even temperature for about 48 hours and if you ain't got the lightest and stinkenest dough when you raise that lid. I'll eat my hat, so I will, But Bill just stir in a spoonful of sody and a spoonful 'of sugar and a little warm water and then beat her up again and you have the finest flapjack batter you ever et. The stinkin smell will pass away when you put in the sody. You kin also put more flour in that dough and make the finest biskets a feller ever tasted. That is sheepherders bred.
Sourdough is the process of making bread using a 'starter' of fermented flour and water, the starter is a leavening agent that uses naturally occurring yeasts and bacteria to make baked goods rise.
Many people enjoy sourdough today, just like they did back in the early frontier days. Bakers, such as Karis Prusak of Le Ulm Marche, have made sourdough bread a business.
Prusak talks about the process.
She said that when using the powdered starter to make your own starter, you mix it with water and then feed it with a ratio of 1 to 1 to one. She said that the starter has to be fed to keep it happy and create the fermentation.
She added if the starter begins to smell a little like acetone, it means that it is hungry and needs fed. She feeds hers about every 12 hours with flour and warm water.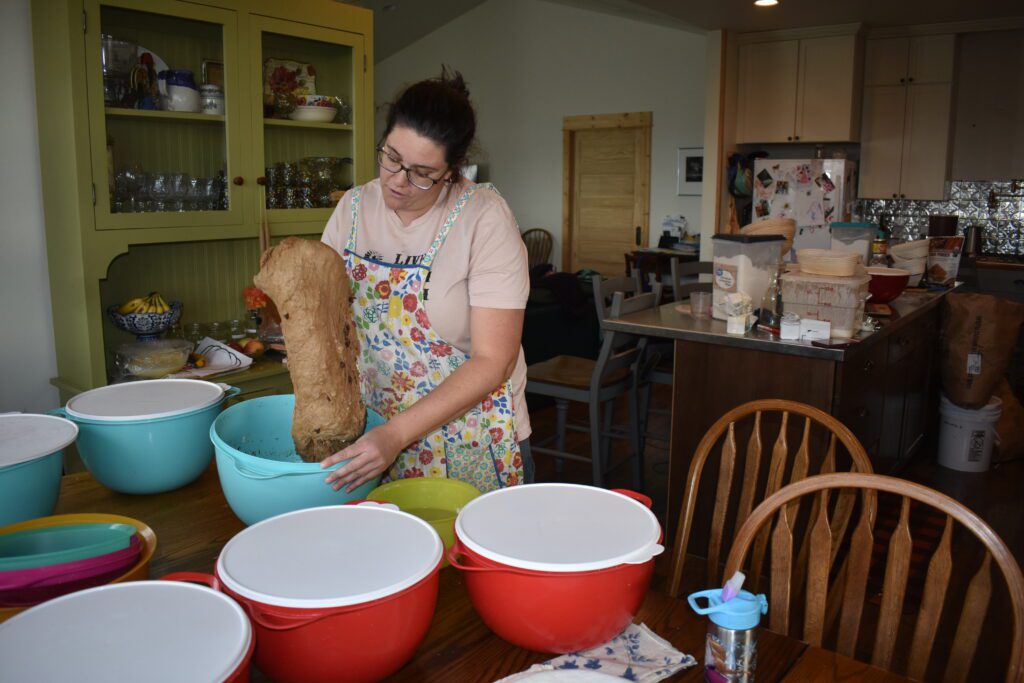 She said that she sometimes has discard, and she talked about how to use that as well.
She said there are many uses for the discard, Prusak feeds it to her chickens and sometimes dilutes it and uses it in her garden as well.
She said when one is first starting out with the powdered sourdough, one has to be very meticulous about feeding it but once you work with it for a while, by looking at the starter to see what it needs.
She talked about some of the health benefits of the sourdough bread as opposed to yeast bread, which usually requires sugar to feed the yeast.
Sourdough does not need sugar, although some bakers do add it, and some recipes for starter call for adding yeast. When baking, Prusak said that she weights the ingredients rather than using the measuring cups, she feels that weighing is more accurate for her breads.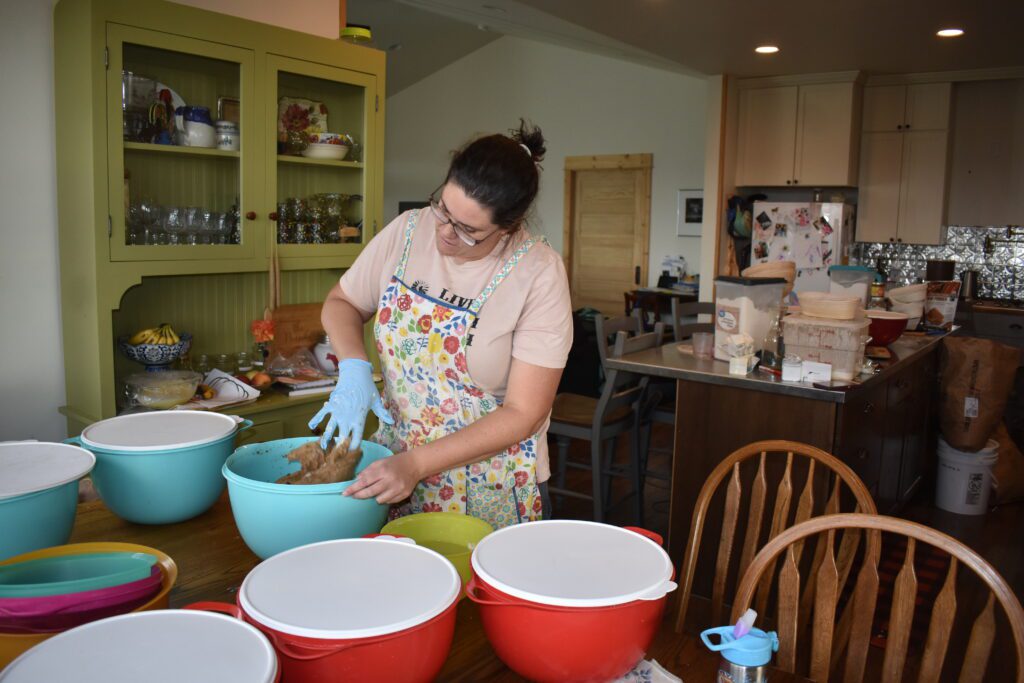 She makes many different varieties of sourdough; they are made with unbleached sifted flour. She has plain, which is white bread, honey wheat, mocha, jalapeno cheddar, which is a good seller, Kalamata Olive walnut rosemary, cranberry walnut and blueberry cherry seasonally in the fall she has pumpkin bread as well. She added that her bread doesn't have as much of a sourdough taste as, say, California Sourdough.
Her bread is available at Cross E Dairy & Freedom Foods store in Sheridan. She sends bread to the store on Tuesdays and Fridays so on those days it is the freshest. The bread freezes well and be kept in the refrigerator to extend the life of the loaf. She also does special orders with a couple days' notice. "You can't make sourdough in an hour," she added. Prusak also sells dry starter if anyone wants to make their own starter.
In addition to the sourdough, Prusak also has skin care products, and added that they are growing their own wheat as well to be made into natural flour.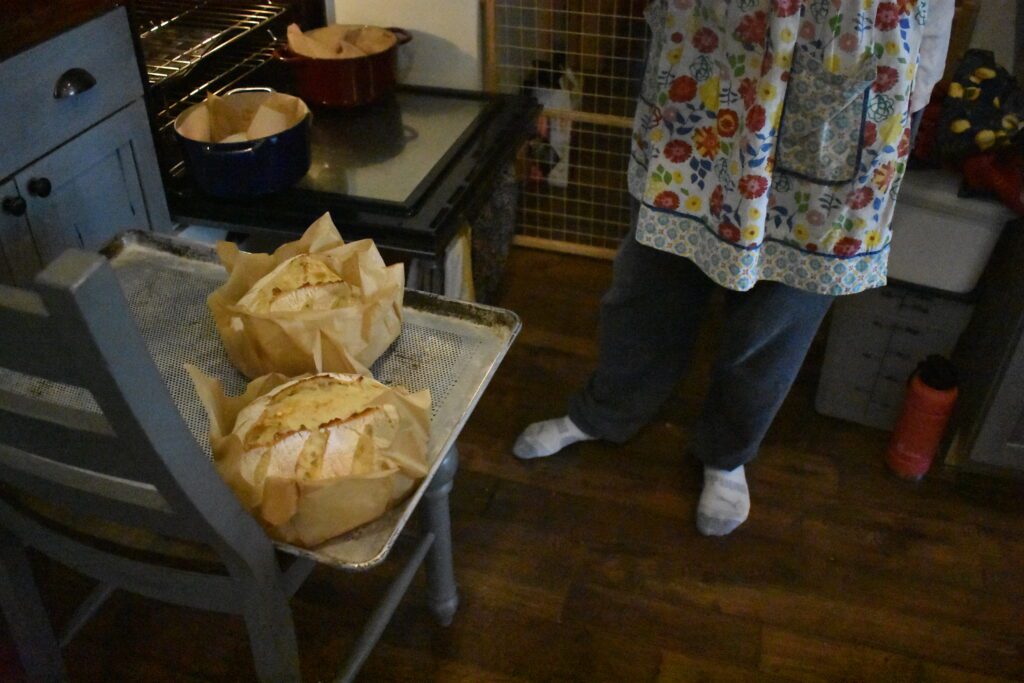 Anyone wishing to try her sourdough or purchase the dry starter mix can contact her at her website, Le Ulm Marche, Wyoming: Natural Skin Care Products or purchase a loaf at Cross E Dairy & Freedom Foods in Sheridan.