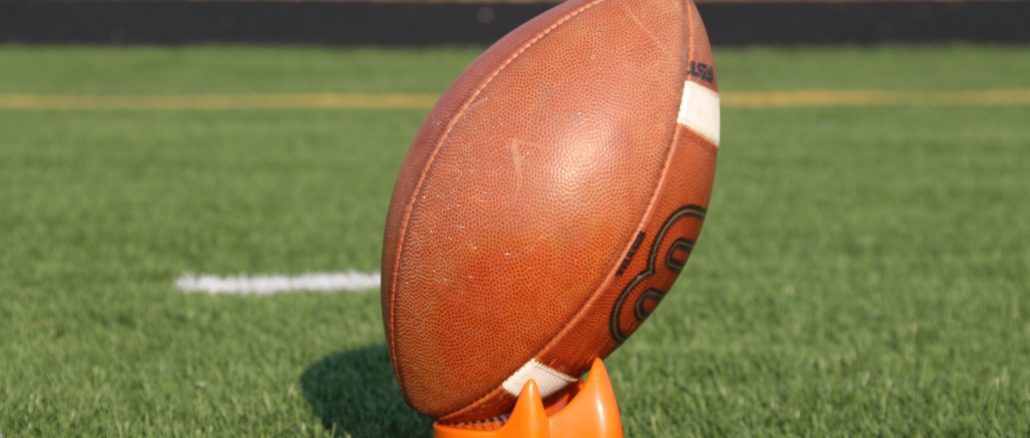 Ten teams will now converge on Laramie to try to win one of 5 Wyoming High School Football State Championship Trophies.
4A Sheridan's next game is scheduled for Saturday, November 13th vs. Rock Springs at 4pm.
The Broncs are the only team from the east side of Wyoming to be playing in a state championship game.
Every other championship game is west vs. west.
4A Standings:
Sheridan 10-1
Rock Springs 10-1
Cheyenne East 8-3
Natrona 7-4
Thunder Basin 6-4
Campbell County 4-6
Kelly Walsh 3-7
Cheyenne Central 2-8
Laramie 1-8
Cheyenne South 0-9
4A Semi-Final Scores:
Sheridan 38 Natrona 24
Rock Springs 55 Cheyenne East 34
4A State Championship: Sheridan vs. Rock Springs – Saturday, November 13th 4pm
3A East Standings: (Conference Record listed first, then overall record)
Douglas 5-0, 8-2
Lander 3-2, 4-5
Buffalo 3-2, 5-4
Worland 3-2, 4-5
Riverton 1-4, 1-7
Rawlins 0-5, 0-8
3A West Standings:
Cody 5-0, 10-0
Jackson 4-1, 8-2
Star Valley 3-2, 5-5
Powell 2-3, 5-4
Evanston 1-4, 4-4
Green River 0-5, 0-8
3A Semi-Final Scores:
Cody 24 Star Valley 17
Jackson 28 Douglas 20
3A State Championship: Cody vs. Jackson – Friday, November 12th 3pm
2A East Standings: (Conference Record listed first, then overall record)
Torrington 7-0, 8-2
Wheatland 5-2, 7-3
Upton-Sundance 5-2, 6-3
Big Horn 3-4, 3-6
Newcastle 3-4, 3-5
Tongue River 3-4, 4-4
Burns 2-5, 2-6
Glenrock 0-7, 1-7
2A West Standings:
Lyman 7-0, 10-0
Lovell 6-1, 9-1
Big Piney 5-2, 6-3
Cokeville 4-3, 5-4
Thermopolis 3-4, 3-5
Kemmerer 2-5, 2-6
Mountain View 1-6, 1-7
Pinedale 0-7, 0-8
2A Semi-Final Scores:
Lyman 38 Wheatland 28
Lovell 35 Torrington 7
2A State Championship Game: Lyman vs. Lovell – Saturday, November 13th 10am
9-Man East Standings:
Pine Bluffs 6-0, 9-1
Lusk 5-1, 6-3
Southeast 4-2, 4-5
Wright 3-3, 4-5
Lingle-Ft. Laramie 2-4, 3-5
Saratoga 1-5, 3-5
Moorcroft 0-6, 0-8
9-Man West Standings:
Shoshoni 6-0, 9-1
Rocky Mountain 5-1, 9-1
Wind River 4-2, 7-3
Riverside 3-3, 4-5
Greybull 2-4, 3-5
St. Stephens 1-5, 1-7
Wyoming Indian 0-6, 0-8
9-Man Semi-Final Scores:
Shoshoni 27 Wind River 0
Rocky Mountain 30 Pine Bluffs 24
9-Man State Championship: Shoshoni vs. Rocky Mountain – Saturday November 13th 1pm
6-Man East Standings:
Hulett 4-0, 7-1
Midwest 2-2, 4-5
Guernsey-Sunrise 2-2, 3-6
Kaycee 2-2, 3-6
H.E.M. 0-4, 0-6
6-Man West Standings:
Little Snake River 5-0, 9-0
Encampment 4-1, 8-1
Meeteetse 3-2, 5-3
Dubois 2-3, 5-5
Farson-Eden 1-4, 3-4
Burlington 0-5, 1-6
6-Man Semi-Final Scores:
Little Snake River 47 Meeteetse 46
Encampment 56 Dubois 36
6-Man State Championship: Little Snake River vs. Encampment – Friday, November 12th Noon