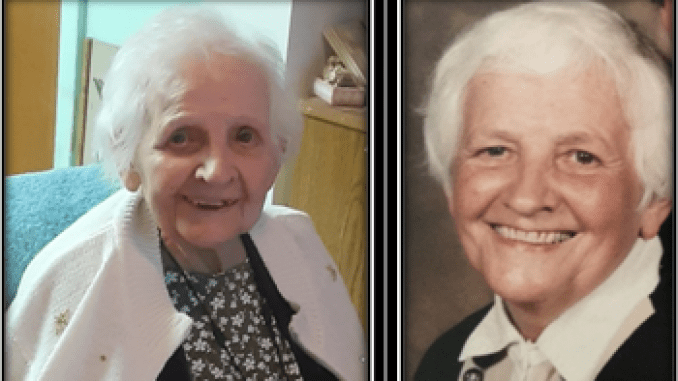 "For God so loved the world, that he gave his only begotten Son, that whosoever believeth in him should not perish, but have everlasting life" John 3:16. On August 30, 2020, longtime Sheridan resident, Maxine "Ruth" Badgett passed away peacefully at the age of 92 with her family by her side at the Green House Living in Sheridan. Ruth was born on September 11, 1927, to Rollin and Cynthia Barnhart in Sheridan and was their 4th child of 5. During her 6th grade and Junior High summers from 1939-1941, Ruth attended Vacation Church School at the West Side, Congregational, and Methodist Churches. She received awards for her perfect attendance and faithful work. Ruth attended Coffeen Elementary, Sheridan Junior High, and graduated from Sheridan High School in 1945. Her first job was a clerk at Woolworth's downtown. Shortly after graduating, Ruth was hired as a clerk at George Scales Motor Company. She was then trained to become the bookkeeper. Ruth remembered the day when the dealership moved into their new building on November 6, 1948. Later the business was purchased and changed to Rhodes-Cook Ford Motor Company. Eventually, Bill Cook bought the dealership and it became Cook Ford Sales. Al Badgett had started work for George Scales in 1944, then enlisted in the Army. While in the Army, he wrote many letters to Ruth. Then on December 18, 1953, Al and Ruth were united in marriage on a Friday evening at the First Christian Church. They both continued their employment at Cook Ford. Ruth received many awards for her outstanding work ethic and bookkeeping skills. After 48 years working at Cook Ford, Al and Ruth decided to retire together. At the time of Al's passing on May 4, 2018, they had been married for 64 ½ years.
For many years Ruth was involved in a variety of community organizations and groups: First Baptist Church, Order of Eastern Star, The Social Order of Beauceant, Daughters of the Nile, Elks, Masonic Lodge, and the Shrine. She traveled with Al throughout Wyoming representing various groups. They attended several North-South Shrine games in Laramie and participated in many civic functions and fundraisers in Sheridan, Big Horn, Ranchester, and Dayton.
Ruth enjoyed being in the Big Horn Mountains and loved her cabin on Red Grade where family and friends would gather. In addition, there were lots of holiday meals, patio BBQs, birthday celebrations, reunions, and other fun and entertaining gatherings at Al and Ruth's home on Thurmond and the Blaney homestead in Big Horn. Any occasion to dine out was a favorite time for Ruth to be with friends and family. She often reminisced about the good ole days dining out at the Blue Jay Chik Inn, Golden Steer, Brown Palace, Woolworths, Ladore, Maverick Supper Club, Hershey's, and the Ritz Sporting Goods. During the summer of July 2019, Ruth decided it was time to have another gathering of family and friends. There were over 80 in attendance at her house with 60 who came on a Saturday and 20 a week later. She enjoyed everyone's company and all the delicious food. Over the last couple years, before Ruth moved to Green House Living, she looked forward to riding the Senior Mini Van so she could dine out with her family and friends at Perkins, Cowboy Cafe, and The Hub.
Ruth was an avid reader and very knowledgeable about family and Sheridan history, and current events. She enjoyed reading her Bible, the Daily Word and read a variety of books spanning many stories and topics. It was important to her to know how her family, neighbors, and friends were all doing. Her love of animals was evident with all the family dogs that lived in her home over the last 70 years. Throughout the years, she would dog sit and always treated guest dogs as if they were her own. She loved watching the deer, turkeys, squirrels, and birds outside her window. Ruth will be forever remembered for her Christian values instilled at a very young age. She always was so good-hearted, compassionate, giving, honest, and kind. Ruth missed Al immensely, so now they are joined together for eternal life. Al said, "She's a good one!" He wanted this statement on Ruth's Obituary.
Ruth is survived by several Barnhart nieces and nephews:  Donald Barnhart, Barbara Streeter, Mary Sickler, Anna Bergen, Carrie Keller, Gwen Olson, Patrick Barnhart, Rebecca Barnhart, Cynthia McPherson, and Paul Vinzant.  In addition, she is survived by sister-in-laws Carolyn Badgett and Virginia Hannum, and many nieces and nephews on the Badgett family side.  She entrusted a good family friend, Kathy Kubsch, to adopt her darling dog, Jewel (Little One).   She was preceded in death by her loving husband, Al Badgett, beloved family dog, Bridgett, parents Rollin M. and Cynthia Barnhart, siblings Rollin E. Barnhart, George Barnhart, Mary Phoenix, and Laverne Barnhart, nieces Cynthia Barnes, Linda Walker, and nephews Rollin E. Barnhart, Jr., Eugene Barnhart, Neal Barnhart, and Brad Burton.  Ruth was preceded in death by the following Badgett relatives:  Floyd (Jody) Badgett, Mark Badgett, Art (Judy) Badgett, Tubby (Rose) Badgett, Steve Badgett, Philip, and Mark Hannum, and Brenda Rodriquez.  Her devoted and close sister-in-law, Maurine Badgett, passed away 23 days after Ruth's passing.  The family extends their gratitude to the staff at GreenHouse Living (Whitney Cottage) for the care Ruth received during her nine-month residency.  A celebration of life for Maurine Badgett, Ruth Badgett and Mark Hannum will be held together on Saturday, July 24, 2021 at 10 am at Champion Funeral Home with a reception to immediately follow at Kalif Shrine. Champion Funeral Home has been entrusted with local arrangements. Online condolences may be written at www.championfh.com.