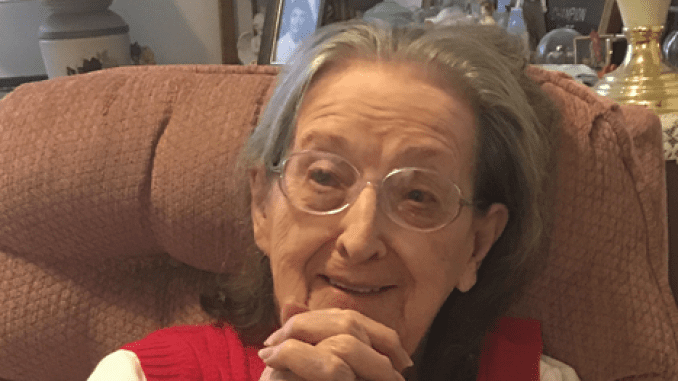 Ruby M. McNair, 97, passed away on Sunday, March 1, 2020, in Cheyenne, WY. She was born January 22, 1923, to parents William D. and Macy (Swinyer) Smith. She graduated from Sheridan High School in June 1941. She married her husband Gene McNair in April 1964. She was a lifelong resident of Sheridan, until she moved to Cheyenne in March of 2017, to be closer to family.
Mrs. McNair started working for Mountain Bell Telephone in June of 1947 as a telephone operator.  She worked in various capacities and was promoted to Manager of operator services in 1970.  She worked in that capacity until 1979 when U.S. West closed the offices in Sheridan.  A year later, she went to work for the Veterans Administration hospital in Sheridan and continued to work there until she retired in 1987.  Ruby was an avid bowler, started bowling in 1953, bowled up to five leagues a week until her health started failing. 
Ruby was preceded in death by her parents, daughter Cheryl McIntyre and her husband Gene.  She is survived by her children, Sandra Hansen, Cheyenne, William D. Hansen (Annette), Cheyenne; Jeff McNair, St. Paul Minnesota.  Her grandchildren, Heather Hansen, Cheyenne; Sean Gilbertson, Boston Ma.;  Chris McIntyre, Billings Mt.;  Melissa Simpson (Alan) Idaho Falls, ID.; Her great-grandson Cody McIntyre, Billings Mt. 
Cremation has taken place. At her request, no services are planned. Memorials to honor Ruby can be made to the Sheridan Senior Center at 211 Smith St., Sheridan, WY 82801.