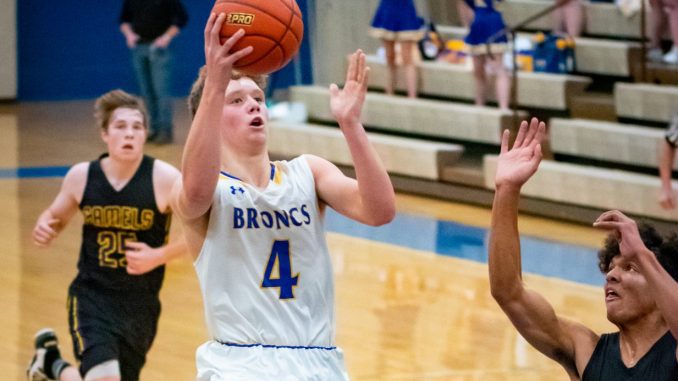 BRONC / LADY BRONC HOOPS – The Bronc and Lady Bronc basketball swept games in Buffalo Thursday night the Lady Broncs won 53-48 and the Broncs blew the Bison out 69-40.
Lady Broncs Head coach Ryan Sullivan said the Lady Broncs played tough after a slow start.
Tonight they play at Natrona county and Sullivan says they expect a tough game with the Fillies.
Coach Jeff Martini picked up his 100 victory as the Broncs Head coach last night and he says the bronc defense was the key to the win.
It's NC tonight the Broncs beat them last week but Martini says the Mustangs will be ready for the Broncs tonight.
And picking up win number 100 was a great thing for the program.
Game times tonight are at 6:00 and 7:30 you can hear both on KWYO and 106.9 FM.
BH HOOPS – The Big Horn Rams and Lady Rams will host games with Shoshoni today and Tongue River tomorrow.
TR HOOPS – The Tongue River teams host Wright today and then at Big Horn tomorrow game times are 2:00 and 3:30.
AC HOOPS – The Arvada / Clearmont Panthers and Lady Panthers will be playing at the annual Little Six tournament in Meeteetse this weekend.
SWIMMING – The Bronc swimmers and divers go back on the road this weekend for dual meets in Laramie and Cheyenne.
WRESTLING – The Bronc wrestlers hosted a dual with Natrona county last and took the dual 36-31.
Tomorrow the Broncs will host the border war duals with the the three Billings schools and Laurel Montana, the Broncs will be joined by both Gillette schools and Worland for all the round robin action.
INDOOR TRACK – The indoor track season starts competition tomorrow the Broncs and Lady Broncs will have their first meet at Natrona county
JUNIOR HOCKEY – The Sheridan Junior Hawks are on the road this weekend for games at the Badlands Sabres in Rapid City.