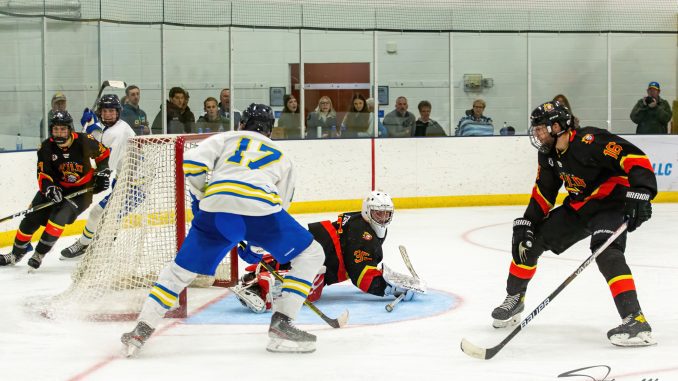 JUNIOR HOCKEY – The Sheridan Junior Hawks have the great falls on the schedule this weekend also this weekend along with the home games it's cancer awareness weekend.
The Hawks will be wearing special jerseys during the games and all will be auctioned off with proceeds going to the Welch cancer center more information on how you can bid can be found on the Hawks webpage.
As far as play on the ice wins have been tough over the first month of the season and Head coach Andy Schieb says he's seen a good change in the players over the last couple of weeks.
And he says they continue to evaluate talent and are still looking for players to add to the roster.
Games times Friday and Saturday are at 7:30.
BRONC FOOTBALL – The Sheridan Broncs play at Campbell county Friday night we will have it for you live on KWYO and 106.9 the First Federal bank and trust pregame show will start at 6:30 with kickoff at 7:00.
TR / BH FOOTBALL – This week Tongue River will host Big Horn the game will kickoff Saturday night at 6:00 in Dayton.
COWBOY FOOTBALL – The Wyoming Cowboys are back at home this week against Fresno state Saturday afternoon the pregame show will start at noon with kickoff at 1:30 on KWYO and 106.9 FM.
BRONCO FOOTBALL – The Denver Broncos host the Raiders Sunday afternoon pregame at noon with kickoff at 2:25 on KWYO and 106.9 FM.
VOLLEYBALL – The Lady Bronc volleyball team plays road matches this week at Cheyenne South and Laramie.
The Big Horn Lady Rams play at Wright Friday and host Moorcroft Saturday.
The Tongue River Lady Eagles host Sundance Friday.
SWIMMING / DIVING – The Lady Bronc swimmers and divers have meets in Gillette Friday and Saturday.
CROSS COUNTRY – The Bronc and Lady Bronc cross country runners will compete at their regional meet Gillette Friday.